De Gea's bad decision-making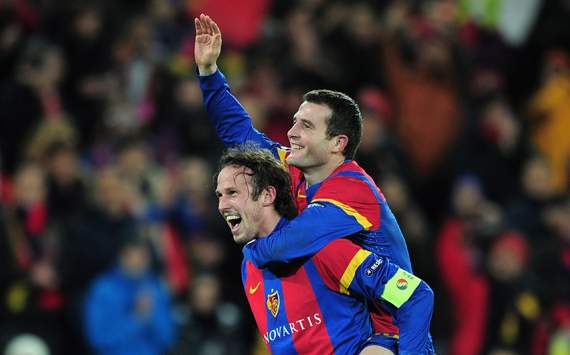 Any top defence relies on a goalkeeper who exerts a calming influence through his actions. This ability, which Edwin van der Sar exhibited time and again, appears to be one his successor David de Gea is yet to acquire.
The young Spaniard, while not shy of attempting to command his area, never convinced when dealing with the crosses Basel fired into the penalty box from the flanks.
His instinct to punch away any threatening delivery all too often increased the pressure on his defenders, and his misguided decision to try and kick away Xherdan Shaqiri's driven low centre presented Marco Streller with an early chance he was all too happy to take.
Decision-making is a priceless quality in goalkeepers, and one which is only honed through experience. There is little doubt De Gea will learn, but Wednesday night was a particularly harsh lesson.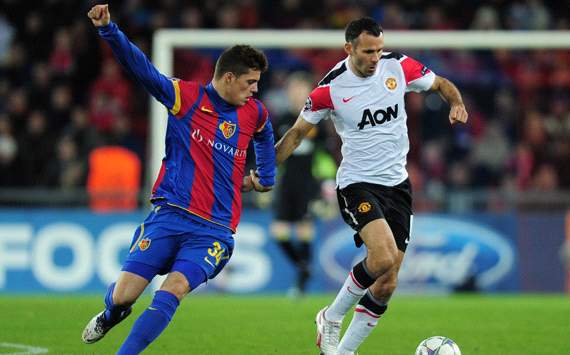 The rationale behind Sir Alex Ferguson's decision to go with a three-man midfield in Switzerland was clear: United have struggled to control games without an extra body in the middle recently, and the Scot was looking to ensure a dominating away performance.
The downside to this switch, however, was equally evident: with only Nani and Ashley Young as his primary line of supply, Wayne Rooney was frequently left as United's only central attacking threat.
Moreover, Basel's relatively early opener gave them an excuse to form in massed ranks on the edge of their own penalty area, forcing Rooney to either come wide or deep in a bid to find space and receive the ball.
Of course, United still created a number of clear chances, but these were generally the result of individual brilliance from the likes of Giggs and Nani rather than the tactical effectiveness of the team.
Basel had to defend superbly to earn their victory, but United will feel they could have made it harder for them.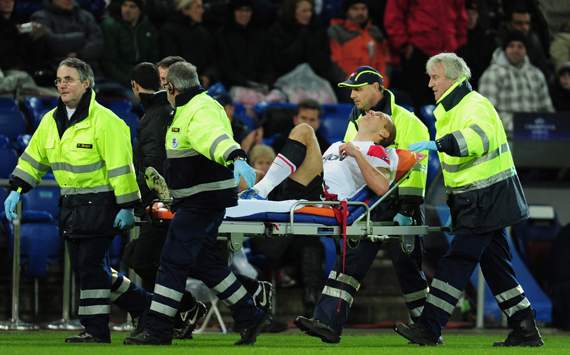 A goal behind and approaching half-time, United were down but by no means out.
They, arguably more than any other team in the world, never give up hope of a comeback and, with captain and talisman Nemanja Vidic marshaling the defence, were entitled to feel confident they would not allow Basel to steal a second goal.
That's why the unfortunate and horrific-looking knee injury suffered by the Serbian in a tussle with Streller just before the interval was such a hammer blow.
With Rio Ferdinand seemingly no longer the force of old and Chris Smalling, Phil Jones and Jonny Evans still rough around the edges, Vidic is crucial to maintaining United's defensive solidity.
We will never know whether his presence could have prevented Alexander Frei from sneaking in to score what proved to be the winner with six minutes left, but, given his influence and ability, it would surely have done no harm.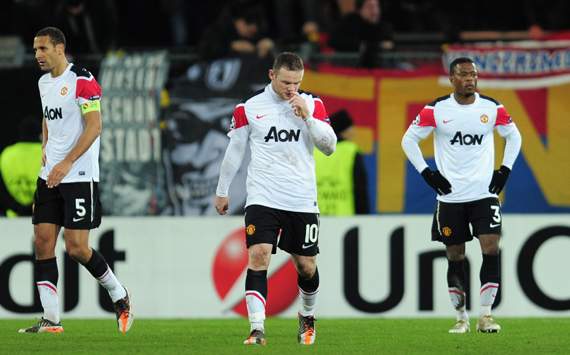 United's defensive vulnerabilities early on in this group stage were explained away as merely an unfortunate by-product of the swashbuckling abandon which characterised their attacking play and thrilled even the most grudging of neutrals.
As the rounds have progressed, however, the true scale of United's problems at the back has become clear, and ultimately wrecked their Champions League hopes.
Sir Alex placed an admirable amount of trust in youth when formulating his defensive options for this campaign and, while his faith will almost certainly be rewarded in the long term, it paid no dividends on Wednesday night.
Jones and Smalling both added pace and dynamism to United's attacking play, but the former Fulham man allowed Frei to steal in behind him far too easily to score the winner, while Evans, Vidic's replacement, was also at fault for not dealing with Shaqiri's cross earlier.
United needed experience to complement the fallibility of youth, but neither Ferdinand nor Patrice Evra played with the authority befitting their reputations.
In the absence of their leader, the Premier League champions' defence looked worryingly uncertain.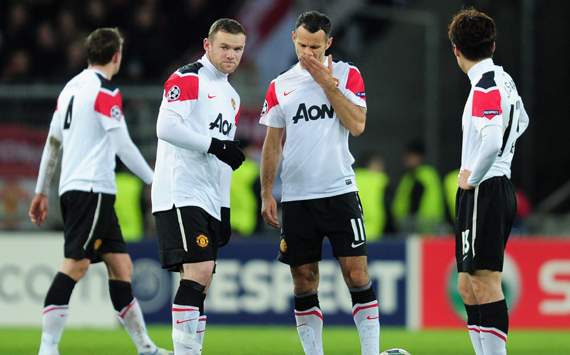 When faced with a Basel team intent on defending their early lead as if a matter of life and death, United had two options: try and break down the door or attempt to pick the lock.
With Rooney alone up front, a direct, physical approach was not feasible, so Sir Alex's men instead tried to play their way through and around the Swiss champions' massed defenders.
This method failed because, aside from a couple of brilliant slide-rule passes from Giggs either side of half-time, United lacked someone who possessed the speed of thought and foot to see a gap in the Basel backline and exploit it.
And so, with almost no guile in the centre, United were invariably funneled to the flanks, where Nani and Young's endless floated crosses pitted Rooney against two physically bigger and more aerially accomplished centre-backs.
Sir Alex's failure to sign a midfield playmaker in the summer caused anxiety among many United fans, and those fears were fully justified on Wednesday night.
source:
http://www.goal.com/en-gb/news/2914/champions-league/2011/12/08/2792973/five-reasons-why-manchester-united-suffered-champions-league