63

– The ball was Barcelona's for a great proportion of the match, and at their peak they were pushing 70 per cent possession. When full-time arrived, a late surge from United had seen them claw some ground back in that regard, but they were still well short of their Catalan rivals, having had to spend the majority of the evening harrying their opponents, who controlled play for 63 per cent of the time.




19

– Over the course of the evening, the Blaugrana mustered an impressive 19 shots on goal, 12 of which found the target. The English club managed only five attempts at Barcelona's goal, and their only shot on target was Wayne Rooney's first-half equaliser.




5

– Though he was being employed as a midfielder, Andres Iniesta racked up five strikes – as many as the entire side from Old Trafford.


<> ><> > <> >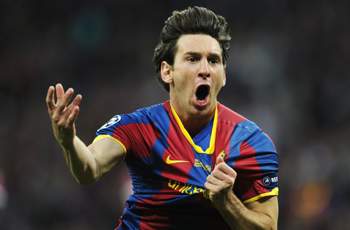 <> > <> ><> >





12

– It was an evening to remember for Lionel Messi, who scored his 12th goal of the Champions League campaign this season, thereby equalling Ruud van Nistelrooy's record. Ironically, the Dutchman set the mark while playing for United.



0

– Corner kicks were expected to be a source of weakness that United could potentially exploit, yet the Blaugrana did not have to face this type of set play once all evening. At the other end of the field, they won five of their own.




662

– It is commonplace for Barcelona to pass their opponents into oblivion, and that was certainly the case on Saturday night as they totalled 662 passes completed from 772 attempts. Sir Alex Ferguson's side, by comparison, managed only 301 completions from 419 tries.




124

– Xavi was Barca's maestro in the heart of the midfield, successfully channelling the ball to a team-mate on 124 occasions. Manchester United's best player in this regard was Rio Ferdinand with a mere 40 – a tally bettered by eight of the champions' starters.




45

– The midfield duo of Iniesta and Sergio Busquets exchanged 45 passes during the game, more than any other two players on the field. Meanwhile, United's struggle to retain possession is emphasised by the fact that it was Ferdinand and goalkeeper Edwin van der Sar who combined most frequently on their part with 17 relays.




108,085

– Barcelona's movement off the ball should not be underestimated. Despite controlling possession for the majority of the game, they clocked up over 108km of running, more than their opponents by 4km-plus.


3

–

For all of their dominance in the other aspects of the game, the vital statistic after 90 minutes was Barcelona's goal tally,outstripping their opponents in the crucial area 3-1.
source:
http://www.goal.com/en-gb/news/2914/champions-league/2011/05/28/2508102/the-10-stats-with-which-barcelona-battered-manchester-united