Soviet Union legend Lev Yashin's success in 1963 remains the only time a goalkeeper has won the Ballon d'Or, and proves that the further back you go on the field the less chance you have of tallying votes.
In the 1970s, two goalkeeping greats can count themselves unlucky. Sepp Maier was arguably the best No.1 in the world in the first half of that decade, and was part of two all-conquering sides – a Bayern Munich team who won three successive European Cups and a Germany squad who followed up Euro '72 glory by lifting the World Cup as hosts two years later. Unfortunately for Maier, Bayern and Germany contained outfield stars such as Franz Beckenbauer and Gerd Muller who between them were never out of the top three for eight years.
Dino Zoff took silver in 1973 when he was embarking on a record-breaking run of not conceding an international goal for 21 months. He was runner-up to Johan Cruyff, who was a deserved champ after leading Ajax to a third European Cup on the bounce. The Dutch giants beat Zoff's Juventus 1-0 in the final, in a game where the Italians missed a series of chances. Had Juventus won, Zoff may have pipped Cruyff to first place. Zoff famously lifted the World Cup at the age of 40 in 1982. That year he also won a sixth Scudetto with Juventus, but it was team-mate Paolo Rossi whose six goals in Spain turned the heads of the judges. Was it the right decision, though, when Rossi had missed the first half of that year after only returning from a long-term ban just weeks before the World Cup?
More recently, Peter Schmeichel's heroics when Denmark produced one of the biggest shocks in history to win Euro '92 perhaps could have been rewarded with the Ballon d'Or. Instead it was Holland's Marco van Basten who took the accolade, despite the fact that it was his penalty miss against Schmeichel in the semi-final that cost the holders. AC Milan were also out of Europe in the 91-92 season, although Van Basten did fire home 29 domestic goals as the Rossoneri finished the Serie A campaign unbeaten. Schmeichel's miracles for Manchester United in the 1999 Champions League knockouts – especially in the final against Bayern Munich – could also have seen him contend in the club's treble-winning campaign.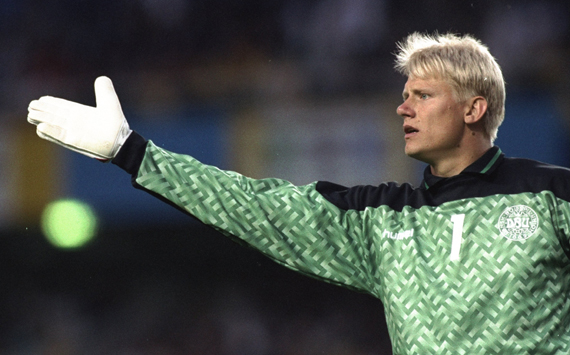 Never No.1 | But Schmeichel's heroics in 1992 and 1999 were Ballon d'Or worthy
Oliver Kahn was superhuman in 2001 and 2002, and probably should have won the Ballon d'Or in the former year as he was decisive in Bayern Munich beating Valencia on penalties in the Champions League final, saving three spot-kicks. Kahn also captured the Bundesliga but was scandalously beaten into third place, with Liverpool's Michael Owen taking the honour for a treble of less-prestigious trophies – the FA Cup, League Cup and Uefa Cup.
Gianluigi Buffon and Iker Casillas only conceded two goals each as Italy and Spain won the World Cup in 2006 and 2010 respectively. Both were decisive in the final at 0-0, with Buffon saving in extra time from Zinedine Zidane and Casillas stopping a one-on-one from Arjen Robben. Casillas also starred in Spain's Euro 2008 success, as his two penalty shootout saves against the Azzurri in the last eight and a world-class stop from Mauro Camoranesi in normal time paved the way for glory. Buffon was second to deserved victor Fabio Cannavaro in 2006, as Casillas has still astonishingly failed to make the podium – a crime of gargantuan proportions when you consider Spain would have won nothing without his cat-like reflexes.
While just one goalkeeper has ever won the Ballon d'Or, only three defenders have their name on the trophy – Franz Beckenbauer, Matthias Sammer and Fabio Cannavaro. This again demonstrates the favouritism afforded to offensive players.
A favouritism that has led to some legendary stoppers being denied. Three names in particular stand out from the crowd – Bobby Moore, Franco Baresi and Paolo Maldini. Moore was indispensable when he captained England to their only international success in 1966, but could only manage a second place in 1970 – the year he executed that signature tackle on Brazil's Jairzinho. In truth, the only year he could have won was 1966 but it was Bobby Charlton who emerged victorious and he was just as much a worthy recipient – probably worthier having scored a cracking double in the semi-final victory over Portugal.
Between 1987 and 1992, AC Milan duo Ruud Gullit and Marco Van Basten shared four Golden Balls between them. At least one of these should have gone to Baresi. No defender has ever reached a higher level than Baresi did during his peak between 1987 and 1992. That Milan defence is widely regarded as the greatest back four of all time – Baresi was the captain, leader and brains behind it.
As for Maldini's incredible career that spanned almost a quarter of a century at the top, it seems inconceivable that the greatest left-back of all time – a winner of seven Scudetti and five European Cups among countless other accolades – never added this trophy to his cabinet. His year probably should have been 1994 when he superbly marshalled a Milan backline minus Baresi and Alessandro Costacurta to thrash Cruyff's Barcelona Dream Team 4-0 in the Champions League final (Milan also won the Scudetto). Maldini was flawless as Italy reached the World Cup final, again mostly without Baresi who returned for the showpiece against Brazil. The prize went to Hristo Stoichkov, who despite enjoying a brilliant year and leading Bulgaria to the World Cup semis had been totally silenced by Maldini in that Athens rout.
THREE DEFENSIVE ICONS WHO MISSED OUT ON GOLDEN BALL
Other unfortunate defenders – who I have to skim through - include Giacinto Facchetti (a pillar of the Inter side that retained the European Cup in 1965), Paul Breitner (scorer in two World Cup finals), Andreas Brehme (perhaps Germany's best-ever left-back, who scored in the last 16, semi-final and the penalty in the final during the victorious 1990 World Cup campaign), Gaetano Scirea (Italy's star defender at Spain '82, and the best libero in history after Franz Beckenbauer), Roberto Carlos (indispensable as he won the Champions League/World Cup double in 2002, a year winner Ronaldo missed much of due to injury), Lilian Thuram (a rock for France in the World Cup and Euro successes of 1998 and 2000, and world class for a decade), Germans Berti Vogts and Uli Stielike, Dutchman Ruud Krol, and another Italian - Alessandro Nesta.
The midfield admissions are less shocking, but some legends of the game were still unfortunate to miss out. Just like Xavi today, 40 years ago there was little discussion who the world's best midfielder was – Germany playmaker Gunter Netzer. The Borussia Monchengladbach star produced one of the best-ever international performances at Wembley during West Germany's 3-1 quarter-final first-leg triumph over England in the 1972 European Championships and was the inspiration as they went on to lift the cup. Netzer only finished joint-second with team-mate Gerd Muller as captain Beckenbauer collected the first of his two Golden Balls. As Beckenbauer's Bayern Munich easily won the Bundesliga that year, Der Kaiser was perhaps the right choice, although the fact that Netzer was named German Footballer of the Year demonstrates a stunning inconsistency.
Netzer wasn't the only world-class German attacking midfielder of the early 1970s. Wolfgang Overath, who was preferred to Netzer at the 1970 and 1974 World Cups, was a phenomenon at both of those tournaments, the latter won by Germany – indeed this writer considers the Koln legend as the best player at Mexico '70 when Pele's Brazil were on another planet. Yet goals often win the votes of judges, and Gerd Muller's 10 World Cup strikes in North America were decisive as Overath could only manage fifth.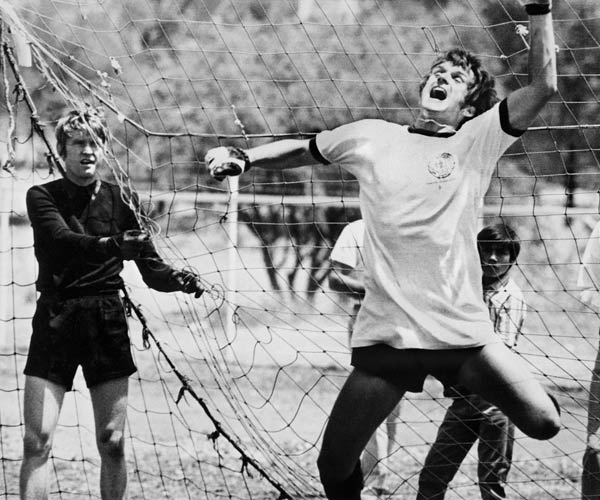 Over-wrath | Wolfgang was World Cup 1970's best player but only came fifth that year
While Xavi's Spain boast a stranglehold over the world's best midfielders today – with 2010 World Cup final goalscoring hero Andres Iniesta another star yet to win the Ballon d'Or – back in the late 1950s and 60s La Furia Roja also possessed an abundance of midfield talent. Luis Suarez was regularly on the Ballon d'Or podium and won the award in 1960, but outside-left Francisco Gento – one of the best wingers in history - never achieved better than an eighth-place finish. Gento was a key member of the great Real Madrid side containing Alfredo Di Stefano and Ferenc Puskas, who won the first five European Champion Clubs' Cups, but there was always a more high-profile colleague for club or country competing against him.
Staying on a Real Madrid theme, many people believe that but for injury and international exile Bernd Schuster would have won a Ballon d'Or in the 1980s. Indeed, some feel he was a more meritorious recipient than Karl-Heinz Rummenigge in 1980 when West Germany brought home the Euros from Italy. At the age of 20, Schuster was arguably the Player of the Tournament along with Belgium's Wilfried van Moer, although Rummenigge did also capture the Bundesliga, reach the semi-finals of the Uefa Cup and score 31 goals in the 1979-80 club season.
Still in the 1980s, another member of Arrigo Sacchi's all-conquering Milan outfit who deserved more than two Ballon d'Or bronzes was Frank Rijkaard. The Dutchman was never publicly valued as highly as the other members of the holy trinity, Ruud Gullit and Marco van Basten, who cleaned up the last three Golden Balls of the decade, but was just as important in marshalling the Milan midfield - scoring the winner in the 1990 European Cup final, and two in the Intercontinental Cup final that year. Other midfielders who have challenged seriously or semi-seriously for the Ballon d'Or, and with more favourable circumstances could have won are Dragan Dzajic, Jimmy Johnstone, Sandro Mazzola, Johan Neeskens, Jean Tigana and Alain Giresse.
More than 30 of the Ballon d'Or winners since 1956 have been forwards, but some attacking legends have still been overlooked. Despite Real Madrid's afforementioned success in the fledgling years of the European Cup, Ferenc Puskas astonishingly never picked up the prize and only managed a second place in 1960 behind Luis Suarez. Had the Ballon d'Or been inauguarated a few years earlier when Hungary were revolutionising international football and thrashing England 6-3 at Wembley, Puskas would surely have succeeded. John Charles is regarded by some as the greatest British footballer of all time, and was voted as Serie A's best-ever foreigner above the likes of Maradona and Platini. His astonishing goalscoring feats for Juventus (105 goals in five seasons and three Scudetti) were probably deserving of a Ballon d'Or, but the Bianconeri's failure to succeed in Europe around the turn of the 60s penalised the Welshman, who only managed third in 1959.
Charles is not the only former Juventus forward to miss out on the former European Footballer of the Year award. Thierry Henry recently completed a fairytale return to Arsenal, but a record-breaking 226 goals and two Premier League titles in his first spell at the club were not enough to win Titi the prize. 2004 perhaps should have been his year as Arsenal's Invincibles won the Premier League without losing a game and an unplayable Henry scored a whopping 39 goals in all competitions. With Euro 2004 and the Champions League producing shock winners in Greece and Porto respectively, it was instead Milan's Andriy Shevchenko who took the gong after a stellar campaign for that year's Italian champions.
Another ex-Juventino Michael Laudrup was world class for well over a decade after bursting onto the scene as a teenager in 1982-83. During this time he never even made the top three, an astonishing statistic given the impact he made for Juve, Barcelona, Real Madrid, and of course the Denmark national team who dazzled spectators at Euro '84 and World Cup '86. His partner in attack for 'Danish Dynamite', Preben Elkjaer, was the best striker in Europe in the mid-1980s – leading the Scandinavians to the semi-finals of the Euros, and then little Verona to an historic Scudetto a season later. Despite these heroics, he was third and second respectively during the 'Platini years'.
THREE MORE LEGENDS MISSING THE GOLDEN BALL
Platini's winner in the tragic 1985 European Cup final clinched him that year's Ballon d'Or. His opponent on that fateful night was Liverpool's Kenny Dalglish, another legend who was worthy of the prize when you consider that he was the star player in a team who dominated the European Cup for eight years, with Dalglish winning three trophies. The current Reds manager scored the only goal in the 1978 final, his best season for the club when he found the net 31 times. Once again, with no real European standouts in that year's World Cup, Dalglish should have been a real contender but he only finished in eighth as the player he replaced at Liverpool – Kevin Keegan of Hamburg – inexplicably won. All of this despite the fact Keegan scored just six Bundesliga goals in 1977-78 as Hamburg finished 10th, and Dalglish's Liverpool humiliated Hamburg 6-0 in the European Super Cup.
The most obvious star of the modern era who should have won the Ballon d'Or is Real Madrid legend Raul. Despite always falling short for Spain, his record 323 goals, six La Ligas, three European Cups, and numerous moments of magic for Madrid make it impossible to believe he never succeeded. Second in 2001 was his best placing, a year when he won La Liga with his highest ever tally of goals. He was definitely a more deserving winner than the preposterous choice of Michael Owen, although in truth Oliver Kahn really should have finished first.
There are other ifs, buts and whys that could have been discussed in this feature – for example Red Star Belgrade's Dejan Savicevic could have beaten Marseille Jean-Pierre Papin to the 1991 Ballon d'Or, Wesley Sneijder should have really triumphed in 2010, Samuel Eto'o has scored in two Champions League finals without enough recognition – but ultimately most of the key exclusions have been covered.
Exclusions that do take away some of the prestige associated with this award. If the "best central midfielder of all time" never wins the Ballon d'Or, then something is not right. And Messi seemingly realised this himself when he dedicated and "shared" his 2011 prize with Xavi.
source:
http://www.goal.com/en-gb/news/3871/fifa-ballon-dor/2012/01/11/2841563/xavi-you-have-company-paolo-maldini-thierry-henry-raul-the