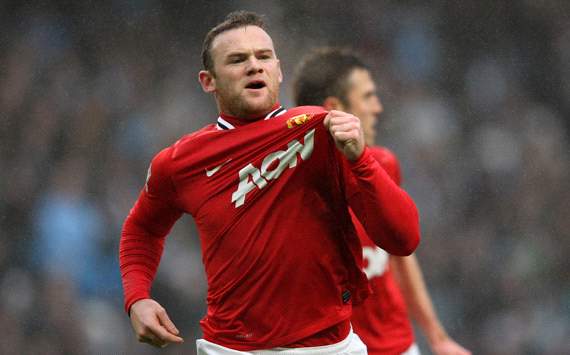 "I don't ever believe that Arsenal play with an out-and-out holding midfielder but Alex Song is the nearest you will get to that this Sunday if he is told to keep Wayne Rooney quiet.
"If Wayne plays the way he did against Manchester City when he dropped off in between the midfield and the back four then I think that the responsibility of stopping him will fall to Alex although obviously when he pushes up the two centre-halves will have to look after him.
"When Wayne is on top form he is superb as he showed against City when he played well on the back of a poor performance against Newcastle. If you let a player who has the amount of ability that Wayne has the freedom and this space to play then you will end up regretting it. His passing ability is good even in the tightest of situations so if he gets the chance to take his time then you're asking for trouble.
"He hurts opponents because he pulls your back four around not only with his passing but also with the movement that he is capable of. To counteract him, I would have thought that Arsenal will aim to keep the lines tight between the back four and the midfield to make sure there is no space for Rooney."
Patrice Evra vs Theo Walcott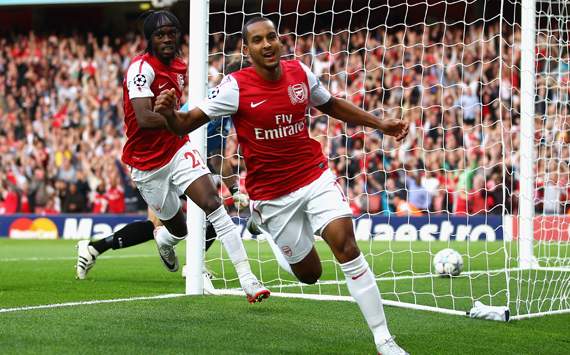 "Manchester United won't get it all their own way because I am sure that Arsene Wenger will look to make maximum use of the pace of Theo Walcott.
"I have a lot of respect for Patrice Evra and I know that he is not short of pace himself but I would have thought that Theo will be under orders to cut in off the line to wrong-foot his opponent and link up with Robin van Persie.
"Theo scored a lovely goal at Swansea so his confidence will be high and so it should be because he has the beating of anyone on his day and Evra will know that he will be up against one of his toughest opponents of the season.
"Evra likes to get forward in support of his winger but I think he will concentrate on trying to keep Theo subdued because he is one of Arsenal's most obvious threats.
"I would like to think that Arsenal will put whichever United goalkeeper is picked under pressure but that is not really Arsenal's way. The fact is, though, United's goalkeeping situation is similar to Arsenal's two years ago so I would highlight it but Arsene Wenger does not normally go for that tactic."
Thomas Vermaelen v Antonio Valencia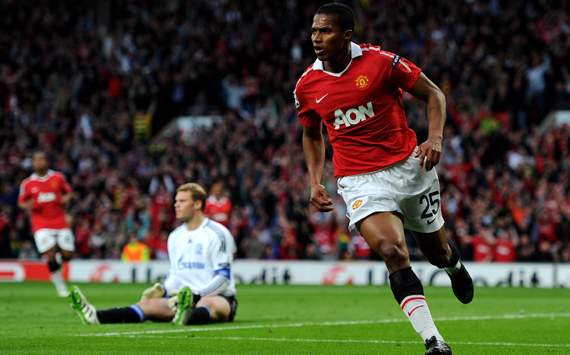 "Everyone knows that Arsenal have struggled when it has come to the full-back positions this season due to injury and Sir Alex Ferguson will have identified the left-back and right-back berths as vulnerable areas.
"The key Arsenal weakness that was spotlighted when they played against Swansea was with their full-back because that was the first time that Miquel had come up against an out-and-out winger and Swansea really exploited that area.
"So I would think the United will be looking at the full-back area as an area they can profit from as well, especially if they go with two out-and-out wingers in Antonio Valencia and Nani.
"It would mean there is no respite for the Arsenal full-backs not only thanks to the wingers but also with the forwards making runs between the centre-halves and the full-backs. That is a place that Swansea really put Arsenal under a lot of pressure and Man United will no doubt try to do the same."
Rio Ferdinand v Robin van Persie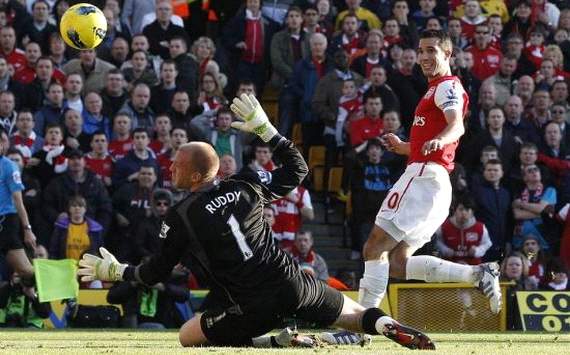 "Robin van Persie's form has been nothing short of brilliant this season and even in the defeat at Swansea there was no suggestion that the standard he has set for himself was in danger of dropping.
"His movement, his touch and his clinical finishing mean that he will be a constant threat and Arsenal fans should be encouraged by the fact that they will be up against a central defence that has been far from being settled this season due to the spate of injuries they have had to deal with at Old Trafford.
"That is something that Arsenal will be out to exploit at the Emirates and - if fit - Rio Ferdinand will have to use all his experience and his awareness to make sure that his defence remains fully focused and that they do not take their eye off Van Persie for one moment because once he's gone you can bet that he will at least test the goalkeeper. One false move could be very costly the way Van Persie is playing."
Aarron Ramsey v Paul Scholes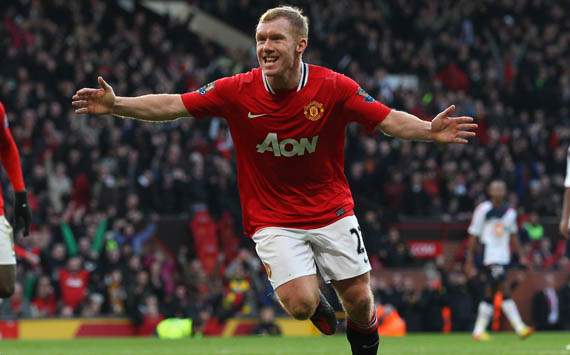 "Paul Scholes is the type of player that likes to dictate play from Manchester United's defensive areas and then start linking up play from those deep positions so there is a possibility that Arsenal might take steps to nullify him through Aaron Ramsey.
"Normally Arsenal play three men in midfield but on this occasion they might push forward one of their midfielders – probably Ramsey – to make it more difficult for Scholes to call the shots from just in front of his back four.
"If Ramsey is given that role then he needs to make sure that he gets in there early either to stop that out-ball and stop Scholes from turning and getting his head up and putting United on to the front foot particularly just inside the United half.
"Ramsey seems to be really coming on nicely this season and even though I expect him to have a special responsibility for Scholes he will fancy his chances of getting on the scoresheet – just like he did last season."
source:
http://www.goal.com/en-gb/news/2896/premier-league/2012/01/21/2857176/arsenal-look-vulnerable-at-full-back-and-manchester-united