Banyak sebab mengapa MU boleh tewas kepada Newcastle United. Cuba baca apa yang telah dihuraikan dalam Goal.com dan aku yakin, hampir kesemua peminat MU akan bersetuju dengan sebab-sebab yang dinyatakan.
Phil Jones brought back down to earth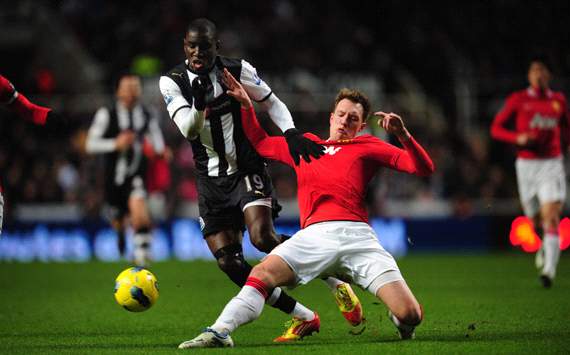 The England international is only 19 years old and it showed against Newcastle as he was bamboozled by Demba Ba and so badly bullied by Shola Ameobi that it looked as though it was way past his bedtime when the game finally ended at 10pm.

Jones is on the steepest of learning curves because having been given a torrid time by Blackburn striker Yakubu in the 3-2 defeat at Old Trafford on New Year's Eve, he was again found wanting.

He was at fault for all three Newcastle goals having been beaten in the air by Ameobi for Ba's opener, fouling Ba for Yohan Cabaye's free kick and then scoring an own goal in the 90th minute.

Jones not only seemed weak compared to Newcastle's powerful strikers, but his suspect positional play – especially in the cruel denouement – meant he looked as though he did not know whether he was coming or going.

But then again that can hardly be surprising because of the way he has had to alternate between midfield and central defence since his £19 million move from Ewood Park.

Initially, he could do no wrong in a United shirt and the plaudits flowed as he repeatedly glided past defenders from midfield, but the trouble is he looks better going forward than he does in defence, which bodes badly for his future as a centre-back.

Here is a player who was tipped to be the next John Terry by Sam Allardyce during their days together at Blackburn and on the current evidence it would seem that Big Sam was almost right in that he does resemble a Chelsea defender, but sadly for Jones he is now being likened to the much maligned David Luiz rather than the Blues captain.



Rio Ferdinand fails to provide leadership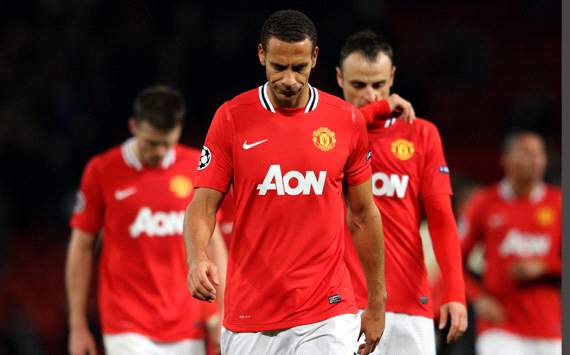 Former Manchester United striker Dwight Yorke hit the nail on the head in his post-match analysis from the television studio high up in an executive box at the Sports Direct Arena when he lamented the lack of leadership in the Red Devils side – leadership that should have been provided by Rio Ferdinand.

On his return to action following injury, the England international should have been calling the shots and leading by example against Ba and Ameobi but he lacked any authority and that could only have hindered the callow Jones.

A few years back, Ferdinand would have relished seeing off Newcastle but now his reputation as arguably the best defender the Premier League has ever seen is starting to become tarnished as he struggles without Nemanja Vidic for company in the heart of the defence.

There was a time when he would pop up from nowhere to thwart strikers with his searing pace and nimble mind but now he seems so conspicuous in his absence that he is losing the authority that used to make him such an intimidating presence on the field.

They knew that they would be up against it against tough opponents, so it was up to Ferdinand to put Ba and Ameobi in their place early on but he failed to take the initiative and once they were up and running there was no stopping them.

They say time waits for no man and, at the age of 33, Ferdinand is finding just how true that old adage is. He is no longer an imposing figure.



Lack of settled team or system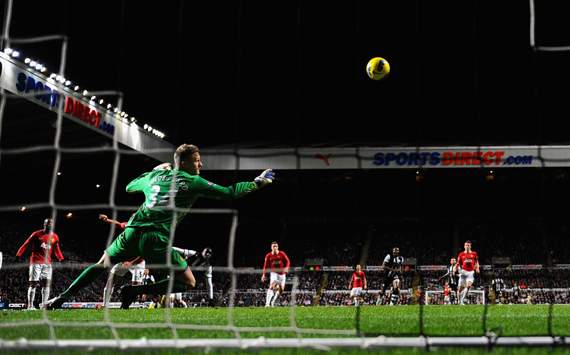 It will be little consolation but if there was one positive to come from the humiliation on Tyneside for the United camp it came in the shape of Anders Lindegaard, because the Dane provided evidence that he could be the long-term answer to the club's goalkeeping problems.

Superficially that might sound odd as although he might have been beaten three times, he did enough to suggest that he has the stature to be handed a starting slot instead of the shell-shocked David de Gea, who was dropped following his calamitous efforts against Blackburn.

While settling on a regular goalkeeper will not be a panacea to the club's problems, it will at least be a start to sorting out their troubles because there has been far too much chopping and changing this season and that seems to have disrupted his club's title drive.

Yes there have been plenty of injuries but Sir Alex can't seem to settle on a consistent team, an established strikeforce and formation, which can't be helping. The Scot needs to find a consistent side and then stick to it.



No creativity in midfield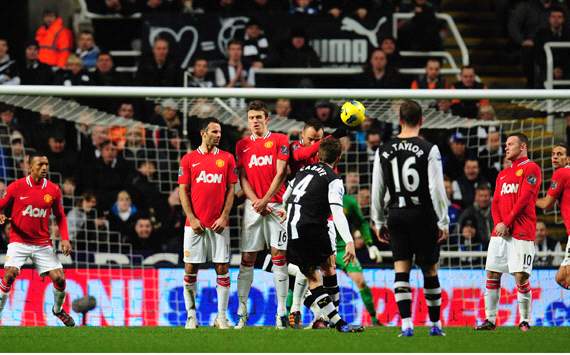 Things were put badly into perspective for the travelling United fans perched high up in the Leazes End by the events in the midfield trenches on Tyneside because it was here that the game was won and lost, and for once because Newcastle were vastly superior in that department.

It is fair to say that both Cheick Tiote and Cabaye would walk straight into the opposition side in place of the ponderous Michael Carrick and veteran winger Ryan Giggs, who found themselves ending up second best to their rivals for most of the night as Newcastle dominated possession and manipulated the ball far better than their more experienced opponents.

With the warrior-like Tiote breaking up play with consummate ease and the fleet-footed and quick-witted Cabaye alert to any threat posed by Carrick and Giggs, this was another game where there wasn't enough creativity in the middle of the park.

Aside from one good pass from Giggs to Wayne Rooney in the first half, there was hardly any notable contribution from the midfield duo as Newcastle seized the game by the scruff of the neck in a critical area.

How United could do with a player of Wesley Sneijder's creativity because they need zest in central midfield and no-one should expect too much of Tom Cleverley once he returns to action from injury.



Talismen Rooney and Nani off the boil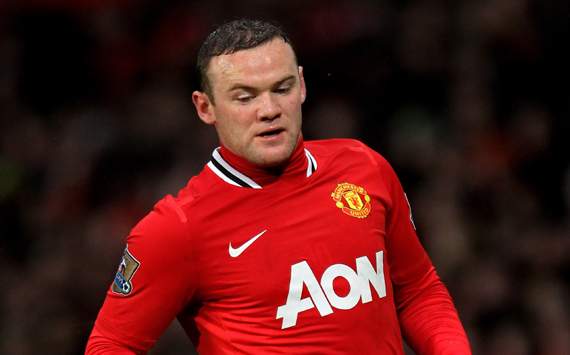 Wayne Rooney was fined a week's wages for being lethargic in training following a night out over the festive period and Sir Alex Ferguson must have been tempted to punish him again after substituting him late on following another subdued shift.

After being dropped for the Blackburn game, Rooney just couldn't get going against Newcastle and invested more energy in berating referee Howard Webb than he did unsettling Toon skipper Fabricio Coloccini.

Rooney cut a frustrated figure and his sluggishness was underlined when he had an effort to drag United back into the game when Newcastle were two-up, but saw Danny Simpson clear off the line.

Rooney is one of the players that United are increasingly reliant upon to provide a touch of inspiration in attack and Nani is the other, but neither impressed on Tyneside and never looked capable of turning the game around.

With Nani up against Premier League rookie Davide Santon, the Portuguese winger would have been expected to shine but he only managed a couple of significant contributions down the right wing.

They must both raise their game when United takes on Manchester City in the FA Cup on Sunday or another humiliation could be on the cards.
source:
http://www.goal.com/en-gb/news/2896/premier-league/2012/01/05/2830427/phil-jones-inexperience-costly-five-reasons-why-manchester