.
Nimble forwards expose Chelsea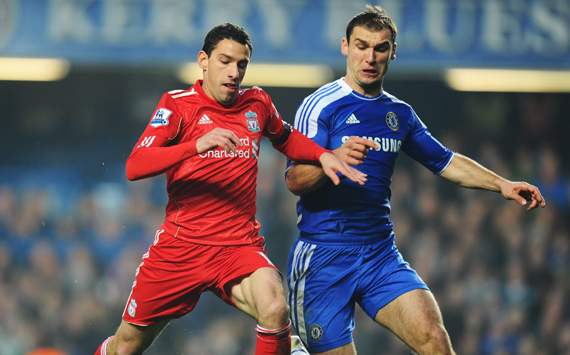 The gameplan of Dalglish and his influential No.2 Steve Clarke, an expert on Chelsea's strengths and weaknesses, was to harass the home side's jittery defence and midfield into mistakes and expose the centre-backs with pace and movement.
Out went struggling trio Andy Carroll, Jordan Henderson and Stewart Downing from the team that shared the points with Swansea at Anfield and in came the smaller, nimbler and more cerebral Dirk Kuyt, Craig Bellamy and Maxi Rodriguez to support Luis Suarez.
It worked a treat in the opening period as Liverpool's sparky front four picked holes in Chelsea's defence with surgical precision, reaching its conclusion in the brilliantly worked opening goal.
Not everything Suarez did came off but he sniffs opportunities like a bloodhound who has downed six cans of Red Bull and Bellamy, Maxi and Kuyt had the intelligence and energy to follow his example in exposing the alarming vulnerabilities of John Terry and David Luiz, not to mention pedestrian defensive screen John Obi Mikel.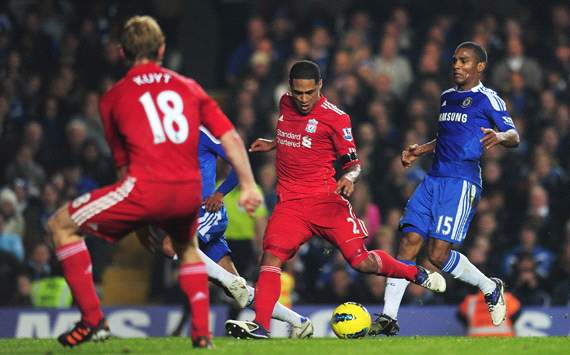 Glen Johnson's sensational solo goal won the match, the adulation and a little lost ground in his battle for public acclaim with Micah Richards.
Villas-Boas reckoned it to be "decisive" in the outcome of the match but Liverpool could easily have returned to Merseyside with nothing had Pepe Reina not produced one of the saves of the season to keep out a Branislav Ivanovic header shortly after Chelsea had equalised and at a time when the home side had their tails up.
Reina's athleticism, reflexes and timing when he hurled himself to his left to deny Ivanovic was every bit as impressive as Johnson's pace, touch and composure half-an-hour later.
With Suarez and Bellamy also in slick form and Charlie Adam pinging a few of the Hollywood passes that were such a regular feature at Blackpool last season, Liverpool had the monopoly of the champagne moments.
However, Juan Mata's influence in Chelsea's second-half revival should not be ignored. Redeployed from the right flank to the support striker role, the Spaniard's clever scheming in the 'hole' behind the centre-forward brought his team back into the game and proved than 4-3-3 need not be Chelsea's religion.
Decision making and communication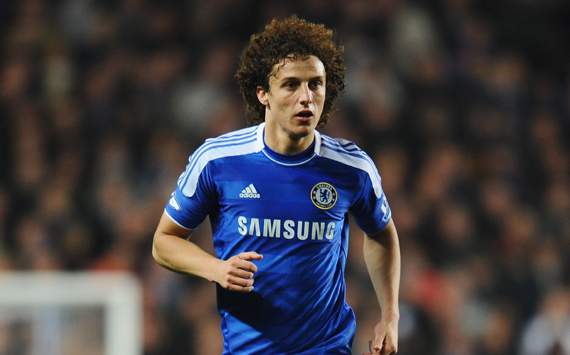 Luiz, a defender who appears to be regressing by the month, was the worst culprit with his kamikaze and, at times, witless, approach to denying opponents space.
The Brazilian should be made to sit down and watch DVDs of Chelsea's 2004-05 and 2005-06 title-winning campaigns for lessons in how to defend.
However, the finger should not only be pointed at Luiz, a forward trapped in a defender's body. Time and again Terry was caught out of position, such as when Johnson accelerated past Cole for the winning goal into space where the England captain, who always operates in the left-sided centre-back position, should have been.
The lack of communication between the centre-halves was embarrassing, and could not be attributed merely to Villas-Boas' preference for a high defensive line to dominate possession.
Elsewhere, the likes of Petr Cech and Mikel were equally culpable. The goalkeeper put the Nigerian under needless pressure with the daft goal-kick that preceded the opening goal. Nevertheless, Mikel should have been alert to the danger and booted the ball into touch rather than dawdle on the ball and concede possession.
By comparison, the decision-making of the visitors was far more effective. The one time the sea of red parted at the back was when Florent Malouda carried the ball into the 18-yard box and miss-hit his shot into the path of the unmarked Daniel Sturridge for the equaliser.
In the absence of home-grown titans Jamie Carragher and Steven Gerrard, it was noticeable that Daniel Agger provided the leadership in the back four, barking out instructions to his colleagues in classic sergeant-major style. Carragher would have been proud.
Team selection and touchline tinkering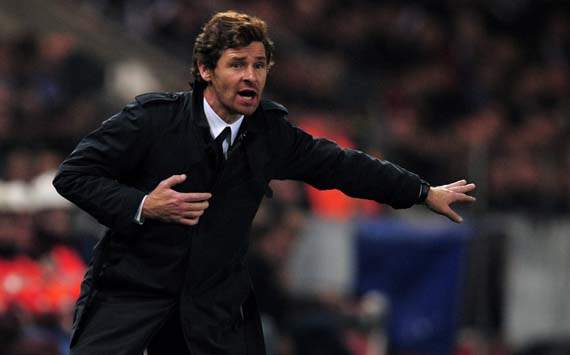 Dalglish got his team selection spot on, which hasn't always been the case this season. Villas-Boas did not. Luiz failed to justify his selection ahead of Jose Bosingwa and Alex, who, bizarrely, did not make the match-day 18 despite featuring in the team that achieved blanks at Stoke City and Blackburn Rovers in two of his three appearances this season.
Mikel looks increasingly vulnerable in marquee fixtures, as does Frank Lampard, although Villas-Boas, deprived of the injured Michael Essien, has used the Englishman rationally. Indeed, much of his rotating of resources has been rooted in common sense.
Moreover, it is wrong to paint Villas-Boas as a callow coach who has been tactically outwitted by dugout sages – Sir Alex Ferguson, Neil Warnock, Arsene Wenger and now Dalglish.
The Portugese has been given the task of making Chelsea easier on the eye at the same time as overhauling an ageing squad and maintaining their quest for Premier League and Champions League success. He needs time and patience to get results.
In his 16 games in charge, he has displayed a flair for anticipating and reacting to events, and tweaking his tactics accordingly.
Chelsea were out-manoeuvred, out-classed and out-fought in the opening period. Villas-Boas did not mess around.
Mikel was hooked, Sturridge introduced and the system was tweaked from 4-3-3 to 4-2-3-1, with Ramires and Lampard protecting the back four and Mata switching to the 'hole' behind Drogba. It paid immediate dividends in terms of Chelsea gaining a foothold in the match, increasing their tempo and the substitute scoring the equaliser.
Dalglish reacted by subbing Bellamy, outstanding in the first half, with 25 minutes left and introducing Henderson to play behind Suarez. Henderson took time to make an impact but combined brilliantly with fellow sub Downing to create a great chance for Kuyt with five minutes left.
The visitors had the last laugh but it was by no means a tactical cakewalk for the Liverpool coaching staff.
source:
http://www.goal.com/en-gb/news/2896/premier-league/2011/11/21/2766181/the-ex-factor-how-the-match-was-won-and-lost-as-chelsea-fell