A is for Anti-racism
The only race next summer anyone should be concerned with is that for the chance to lift the trophy in Kiev in July, but after some high-profile racism issues in the game recently, the question of discrimination has been raised. Good to know, then, that stewards at all matches have had extra training in identifying racist fans.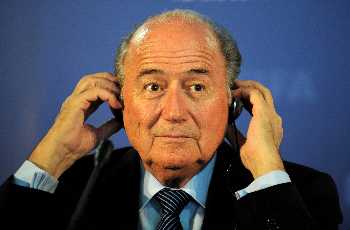 B is for Blatter

Let's face it, it's not even "his" tournament, but Fifa's bumbling president Sepp Blatter is going to say something stupid that overshadows the entire tournament isn't he? If he's not offending homosexuals he's making undermining remarks about women. What next? Belittling racism? Oh.



C

is for

Clock

.

As in "race against the". From the announcement that Poland and Ukraine were to host the tournament, there have been worried looks at watches from Uefa delegates with stadiums behind schedule. But worry not, Uefa head Michel Platini said in September that the countries were "virtually ready for Euro 2012". Oh good, get the virtual head sets out everyone.

D is for Dip

Feeling hot and flustered watching your team playing a critical match in next summer's tournament? Need to cool off? No worries! If you're at the Stadion Miejski in Wroclaw you can go for a quick half-time dip in their built-in swimming pool. Hey! You! No heavy petting!

E is for Eh?
Get those Polish, Ukrainian and Russian phrasebooks handy people, because a lot of the host cities are not exactly English friendly. That's not the people - they will give anyone a smile - but lots of the signs are in native text, so you'd better start brushing up.

F is for la

Furia Roja



AKA Spain. AKA World Champions. AKA European Champions. AKA those guys who beat everyone. Or do they? Vicente Del Bosque's side haven't won their last six friendlies - including a hugely embarrassing defeat to England - and don't quite go into this tournament with the sort of all-conquering fear they once commanded.

G is for Guinness
Prep the Guinness! The Irish fans will be out in Eastern Europe in force after the Republic of Ireland qualified for the European Championships for the first time since 1988 after seeing off Estonia in the play-offs. And they will surely take the chance to enjoy themselvs. And quite rightly!

H is for Hotels

Or lack of. Local hoteliers are worried they won't have enough rooms for the scores of football fans expected to flood to Poland and Ukraine for the games next summer. There is space for an estimated 800,000 people yet up to 1 million are expected to don their colours and head on over. Might well need to bring a sleeping bag chaps.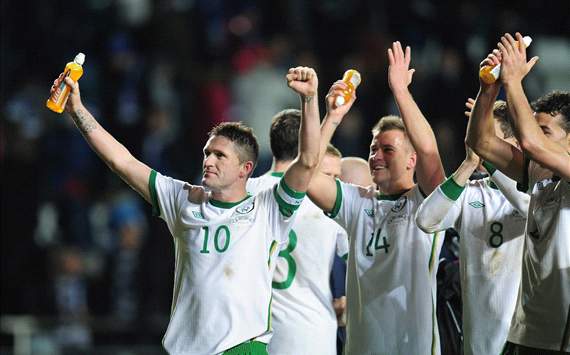 I
is for
Iron Curtain
Whatever you do don't use the c-word while in Eastern Europe; communism. Poland and the Ukraine are free of the grasp of the Soviet Union which fell just 20 years ago, and have been keen to embrace western democracy since. The games themselves are seen as a huge step forward towards that. Huzzah!
J
is for
Jagiellonia Bialystok
You don't know Jagiellonia Bialystok? Pah! Call yourself a football fan! (*reaches for the search engine*). The Polish top flight team have had the benefit of money from Euro 2012 to do up their stadium but don't have to let anyone play there next summer. Lucky beggers.
K
is for
Klitschko
WBC heavyweight champions Vitali Klitschko has been helping the local authorities pick 6,000 volunteers who will take on the tasks that will help the tournament run smoothly, like direct fans to stadiums and help keep Sepp Blatter's hand over his mouth. The boxer did, though, offer his own Blatterism when he mused that "girl [volunteers] have more chances to attract the attention". *facepalm*
L
is for
Lech Wałęsa
Not a name that will be familiar with many outside Poland, but a national hero who rose to fame after leading the Solodarity movement out of Gdansk on behalf of disgruntled shipyward workers - the Soviet bloc's first indendent union - and went on to be president of the country and an icon for worker power.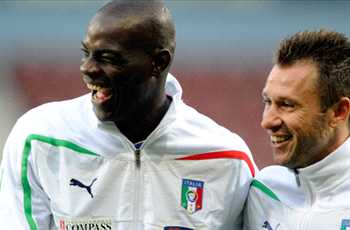 M
is for
Mario Balotelli
Will Super Mario be at the finals next summer? Form on the pitch suggests he will in the colours of Italy. Form off the pitch suggets he bloody well definitley should be there! Can you imagine the fireworks that will go off in some Kiev hotel if Italy win a game, let along the whole damn thing? If he isn't there the tournament will be a poorer place.
N
is for
Netherlands
Is this the year they finally realise the talent in their supremely gifted squad and win that elusive trophy - the sort that has evaded their grasp for a century despite producing some of the best players the game has ever known. Or will they just kick everyone in the face again? Who knows.
O
is for
'oh my, what's that on your face?'
Is anyone else worried that Petr Cech may slowly be turning into Darth Vader? Since colliding with Reading's Stephen Hunt in 2006, the Czech Republic goalkeeper has worn first a head guard and now a face guard that slowly appears to be taking over his face. Next stop the Deathstar.
P
is for
Poznan
The Polish city made famous by the terrace craze of linking arms with the fan next to you and jumping up and down while facing away from the action. The Lech Poznan supporters impressed the Manchester City supporters with the act during last season's Europa League and now it has taken the Etihad by storm. Expect to see it at a Polish stadium near you soon!
Q
is for
Quit
Fabio Capello will be saying goodbye to England at the tournament, come what may. Ukrainian football legend - heck, Ukrainian legend AND football legend - Andriy Shevchenko will play for his country for the last time in the summer too. Others are bound to follow, some even against their will!
R
is for
Rooney
Or is it? The England man will be missing from the Three Lions group stage games thanks to a red card picked up in qualifying, and if Fabio Capello's side don't make it through to the knockout stage, Euro 2012 fans won't get to see the Manchester United striker's new fuller head of hair strut his stuff.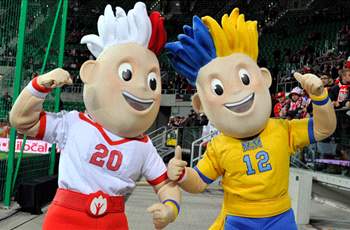 S
is for
Slavek and Slavko
Each year there are a pair of characters who annoy everyone, turn up to every game and no-one really knows what is the point of them. No, not Sepp Blatter and Michel Platini, but the official mascots! The names of this year's efforts were voted for by 39,000 bored fans. A moment's silence for the names not chosen; Siemko & Strimko and Klemek & Ladko. Ok, that's enough.
T
is for
Trains
High speed trains that will take fans between host cities, to be exact. Because let's face it, the 1,835 km trip between Gdansk and Donetsk is not exactly an overnighter in the car. There are, of course, worries the preparation of the trains is behind schedule, although those have been waved away by organisers.
U
is for
Underwhelming expectations
All football fans want their coaches to be realistic of course, but French boss Laurent Blanc went one further when he told reporters last month that his side "won't win Euro 2012". Given what happened at the World Cup, does he really think his players need any more discouragement?
V
is for
Van Persie
Can the Arsenal star take his superb club form onto the international stage next summer. RVP has notched 35 goals in 36 games during 2011 but has struggled to make his mark for the Netherlands in big tournaments.
W
is for
Wilshere
If, as expected, Arsenal's young star has recovered from a troublesome ankle injury by the start of the tournament, he could well be a key figure in Capello's new look, young midfield. If not, the Three Lions fans might be lumbered with Frank Lampard or the man whose injuries are keeping accident lawyers in business - Steven Gerrard.
X
is for
Xavi
The Spanish midfield maestro and widely accepted as best player on the planet could be making his final swansong for the World Cup and European reigning champions. At 31 and in the twighlight of his career, the Barcelona star will be aiming to help his nation become the first ever to retain the European Championship trophy.
Y
is for
Yann M'Vila
Despite having a name that brings back horrible memories of pop dolts Hanson's 1999 hit (and I use that term loosely) 'Mmbop', the France midfielder has a serious chance to make a name for himself after impressing in qualifying and for club side Rennes. He could even be plying his club trade for Arsenal by the start of the tournament.
Z
is for
Zlatan
Possibly the only footballer who can hold a crazy candle to Mario Balotelli. Actually that's not a good idea, Mario will only set fire to something. But if Sweden do well expect Ibrahimovic to repeat his 2005 Scudetto win celebrations at Juve - "I slept in the bath tub. Now I hold my vodka much better". There'll be enough vodka swilling around in Poland and Ukraine, so let's just hope the bath tubs are up to scratch.
source:
http://www.goal.com/en-gb/news/3284/euro-2012/2011/11/30/2777911/from-super-mario-balotelli-to-vitali-klitschko-the-a-z-of