Rio Ferdinand v Luis Suarez
"Luis Suarez came back to great acclaim from the Kop against Tottenham on Monday and he looked very lively. He was a real catalyst and got involved in everything and gave them his team much-needed invention.
"They have done well in his absence but now he has a game under his belt I am sure he will start in what will be a massive game. The tension will be there because of the fall-out from the Anfield game. Suarez has to remain focused and do what he does well to remind everyone what a quality player he is.
"Rio Ferdinand has struggled at times with the sort of movement that makes Suarez such a dangerous player and if he is able to pull Ferdinand out of position then Liverpool could be onto something.
"Liverpool will go into the game thinking that this Manchester United team are vulnerable and it will be down to Suarez to exploit that and to link up with his team-mates. United will have plenty of possession and will push forward and that will suit Liverpool and their ability to counter-attack, especially if Craig Bellamy is around.
"Suarez could have changed the game for Liverpool against Spurs but the big question remains over his ability to link up with Andy Carroll, Dirk Kuyt and Craig Bellamy as well as Steven Gerrard."
David De Gea v Pepe Reina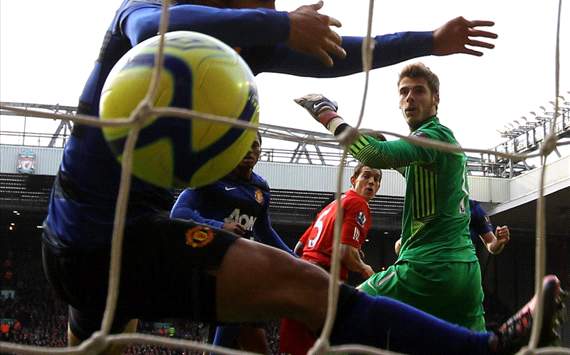 "I know this won't be a key duel in the strictest sense but the way these two Spanish goalkeepers play could end up being decisive.
"If I were a United fan, then David de Gea would still worry me. Ben Amos played against Stoke and did well but I would think Sir Alex Ferguson would still keep faith with De Gea. He is a young player who just has to come to terms to what it means to play for United because it is such a big step up because of everything that is expected of you.
"They need a goalkeeper behind them that gives the back four confidence and obviously De Gea is not a keeper that can dominate the box although he showed against Chelsea when he denied Juan Mata that he is a phenomenal shot-stopper. He will come good eventually but it is a harsh environment to be in for one so young.
"In contrast, Pepe Reina is one of the great keepers in the Premier League. He has shown that with his consistency and his high level of performance and he gives his defence a huge amount of confidence. He kept Liverpool in the game against Spurs when Gareth Bale was through one-on-one and that showed what a player he is. He has the odd blip but generally speaking Reina is absolutely world-class and a huge asset to Liverpool."
Paul Scholes v Steven Gerrard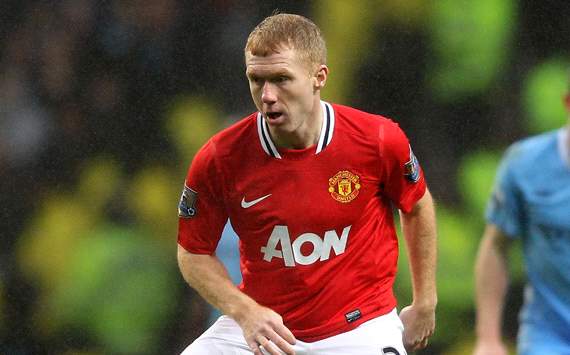 "Two of the finest midfielders of their generation will be pitting their wits against each other so it will be a contest to savour when Steven Gerrard and Paul Scholes come up against each other, possibly for the last time.
"You should never ever under-estimate Steven Gerrard's importance to the team. Coming back from injury he has not looked as dynamic as he has done in the past in the performances I have seen in that he has not broken forward and gone past centre-forwards as much as he would have liked. It is more a case of him playing in midfield just behind the front two and getting on the ball to influence things and he needs runners and movement.
"It is great for the neutrals that Scholes has come out of retirement because he is a brilliant all-round midfielder who always seems to be there for his teammates, rarely forfeits possession and is always likely to chip in with a goal so Gerrard will have to beware his runs into the penalty area and keep a close eye on him.
"The centre of the pitch is always important. I noticed against Spurs that Charlie Adam needs colleagues to stretch defenders and get on their shoulders so he can ping those balls into dangerous positions so he is always looking for that diagonal ball or the ball over the top and that wasn't happening for Liverpool. He will want to see better movement and that is where Suarez could come in handy. He will offer an extra dimension in that he will pull defenders around and that will help Adam."
Daniel Agger v Wayne Rooney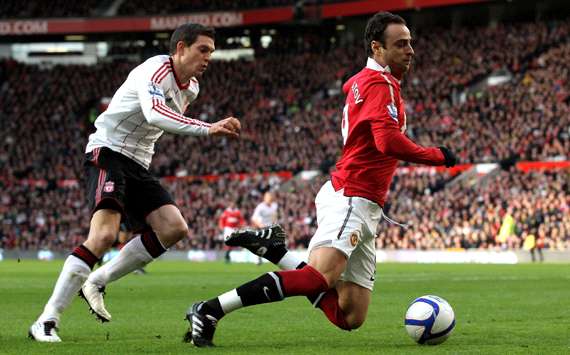 "Wayne Rooney is a wonderful footballer skill-wise but he also epitomises the resilience that makes United such a force.
"Against Chelsea, their fight-back showed that attacking-wise United are a dangerous as ever but they also have tremendous spirit and to come back from 3-0 down and draw is what we have come to expect from them. You almost take it for granted but it does show an incredible collective spirit.
"Daniel Agger and Martin Skrtel have had a fantastic season. They look very good together and they have developed into a very good, strong partnership but when you look at Rooney with his goals and Welbeck and Hernandez it is a potent strikeforce but it is Rooney who represents the biggest danger to Liverpool.
"Rooney gets all over the place and it will be up to Agger to make sure that he is not allowed to turn and get his head up but the trouble is for Liverpool is that as far as United are concerned so much comes down those wide areas with Valencia as well as Ashley Young and Nani and so the full-backs will be crucial for Liverpool.
"They will hope to have Jose Enrique back because he offers natural left-footed width and against Spurs Glen Johnson just struggled at times with delivery and the choice of delivery when he was on his right foot.
Defensively, Johnson was fantastic but the balance of the team would ideally have Johnson at right-back and Enrique at left-back. They could be in for a busy 90 minutes."
Jonny Evans v Andy Carroll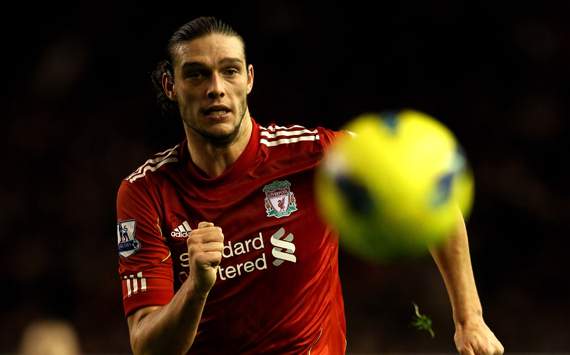 "Andy Carroll has struggled to settle and to feel confident in his game, the way that he fits in with Liverpool and his own ability but this is the perfect opportunity for him to win over the critics.
"There are still question marks over him. It has been a huge challenge and it has been a difficult time for him as a footballer. He has shown recently that he is in much better spirits and that is the first thing because you can step out on to the pitch and have confidence in yourself and feel that you are integral part of the team and feel valued.
"I saw that against Spurs and the fans are clearly keen to help him because against Spurs he won applause for just chasing down a ball. They were willing him to succeed.
"It is not quite working out for him. The jury is still out on him being the player Kenny would want him to be. But he is making progress.
"Jonny Evans might not be one of Sir Alex Ferguson's first-choice centre-halves and he often bears the brunt of criticism when things go awry but he is a good defender, a determined player who is decent in possession and most importantly he is clearly a strong character who will need to impose himself on Carroll early on."
source:
http://www.goal.com/en-gb/news/2896/premier-league/2012/02/10/2895440/if-luis-suarez-stays-focused-liverpool-could-beat-manchester