It is not a slight on the midfielder's ability as a footballer to say that it is his Premier League experience that makes him such a potentially excellent signing.
With Jack Wilshere and Aaron Ramsey clearly the future of Arsenal's midfield, it would've been foolhardy to rely on two players with a combined age of 39 as the sole providers of creativity in the middle.
The Spaniard will not only share the load but will be expected to take responsibility for it in a blend of youth and experience that is proving so lucrative at Manchester United.
The 29-year-old is no Cesc Fabregas, and cannot provide the same level of dynamism as the club's former skipper but his accuracy at dead-ball situations, when both providing and shooting, will bolster an area of the Gunners armoury that has certainly been lacking.
At 31, concerns over the Israeli's ability to transform Arsenal's attacking options are somewhat justified.
However, as an experienced player with guile and touch of class mirroring that of Wenger's side, the loan capture could yet prove to be a fantastic bit of business.
If Wenger's men still feel they can push toward the 60-games-a-season mark, then Benayoun's versatility in either the central midfield roles or, more likely, out wide supporting Robin van Persie, will be essential.
The former Liverpool man has never scored over 10 goals in a season during his six years in England but as a creative altruist, there are few better.
The former Werder Bremen defender is extremely experienced despite being just 26 years old, but whether he is the right man for Wenger is still highly debatable.
On his best form, and in the right context, Mertesacker is a top-class defender: he anticipates danger well, and when near an opponent, is a very skilled ball winner.
Without the right midfield in front of him and partner in defence, however, he is too slow and too hesitant to be a hit.
Werder conceded 61 goals in 34 Bundesliga games last year, in a time in which fellow centre-back Naldo was missing due to injury, and midfield anchor Torsten Frings was unable to keep up with the pace of previous years.
In any case, Metersacker is an exceptionally clean defender, having earned just one yellow card in 90 Bundesliga appearances since 2008-09, and his height alone will be a big benefit from set pieces. But Wenger has taken a big risk in signing a player who is notoriously hit-or-miss.
During his time in France, the South Korean proved himself as a very versatile attacker, both in terms of his skill set and in the positions in which he can be used.
Though he was often able to play as a central striker due to his speed and surprisingly strong ability in the air, he is also technical and clever enough to play in behind a main forward.
Indeed, this may be the best position for the 26-year-old, who possesses a powerful shot but who can lack composure when placed directly in front of goal.
Equally, he's skilfull enough to be used in the wide areas, though this is probably not his preferred role in the team.
The former Fenerbahce man will bolster Arsenal's ailing left flank, which has been severely hit by the departure of Clichy, their main source of width, plus an alarming dip in the form of Andrey Arshavin and Van Persie's forced redeployment as a central striker.
Although he can play as a left winger, Santos will be utilised to fill the gap in defence, seamlessly slotting into their 4-3-3 setup, and he will help cushion the blow by giving the side those similar cutting-edge qualities to the Frenchman, with an impressive, all-round attacking game, offering genuine width and support with his pace.
Defensively, he has also proved in various Champions League and Confederations Cup matches that he may prove to be an equally efficient stopper too, and he definitely has what it takes to flourish in the Premier League.
POSSIBLE ARSENAL LINE-UP vs SWANSEA CITY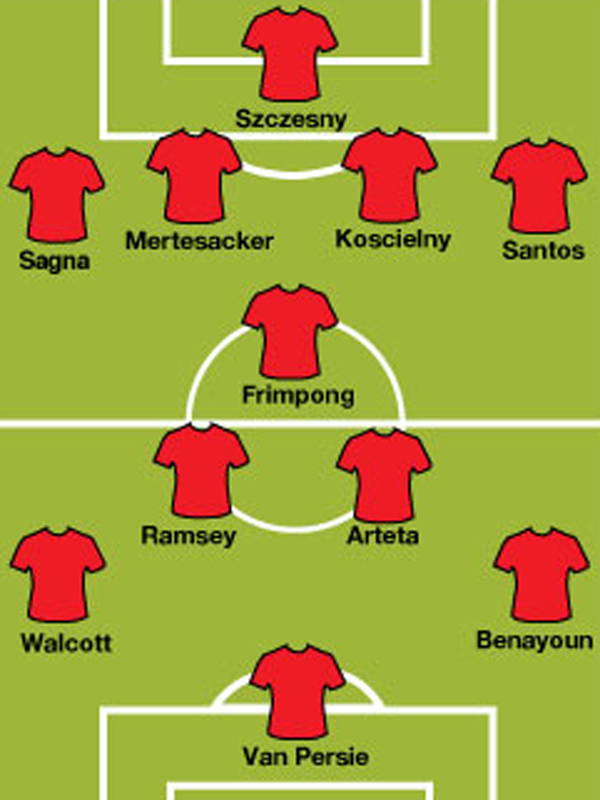 The fluid 4-3-3 system that Wenger deploys is unlikely to change as a result of the five signings, and this weekend's clash against Swansea will offer some indication as to who the Frenchman expects to have immediate impact.
The fixture at the Emirates will also highlight why such radical action was taken with the transfer deadline looming, with a number of players out through both injuries and suspensions.
Thomas Vermaelen looks set to be sidelined for at least a month after undergoing ankle surgery in Stockholm and will therefore miss out on the side's opening two Champions League group games against Borussia Dortmund and Olympiakos. The north London derby against Tottenham on October 2 will possibly be his target return date. Mertesacker, you would therefore expect, will be thrown straight into the side.
Wilshere is also suffering from ankle trouble and will be out for even longer than the Belgian, with a prognosis of two months on the sidelines almost certainly ensuring Arteta a starting berth.
Further injuries to Theo Walcott, Sebastien Squillaci, Kieran Gibbs and Abou Diaby are also being monitored at the Emirates but their return is thought to be imminent.
Carl Jenkinson is suspended for the clash with Brendan Rogers' side after picking up a red in his side's humiliating 8-2 defeat to Manchester United while Gervinho and Alex Song still have one more game in the stands for misdemeanours on the opening day of the campaign away to Newcastle.
With a deleterious month behind them, the season starts on Saturday for Arsenal and a home clash with a promoted side could prove to be the perfect opportunity to accommodate the Emirates' new faces. Anything less than a win would lead to further serious questions and take the Gunners to even lower depths. A poor showing would be simply unacceptable; the Wenger experiment must start yielding results.
source:
http://www.goal.com/en-gb/news/2896/premier-league/2011/09/09/2654647/from-mikel-arteta-to-andre-santos-how-arsene-wengers-new