Having raided the German champions this summer for Shinji Kagawa, the Scot is understood to have an eye on more acquisitions from Jurgen Klopp's side.
1. Lukas Piszczek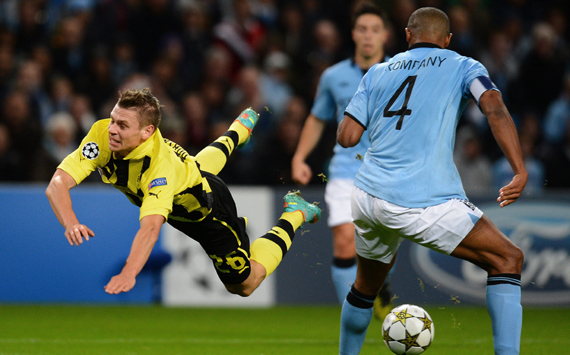 Manchester United are still struggling to replace Gary Neville nearly two years after the long-serving right-back's retirement. Rafael can't quite find any consistent form and looks more comfortable at the other end of the pitch. Phil Jones and Chris Smalling are both more natural in the centre.

Piszczek, meanwhile, is at the top of his game as one of the world's best full-backs. Two superb years at Dortmund have reportedly drawn attention from the likes of Real Madrid and, on the back of another excellent performance on Wednesday, he might make sense for United. Bombing forward on the right constantly but always getting back in time for his defensive duties, the Poland international impressed at the Etihad Stadium.

His lengthy contract, which runs until 2016, could make any negotiations difficult, though, with the right-back rated at between £12 million and £16m and BVB seemingly under little pressure to sell.
2. Neven Subotic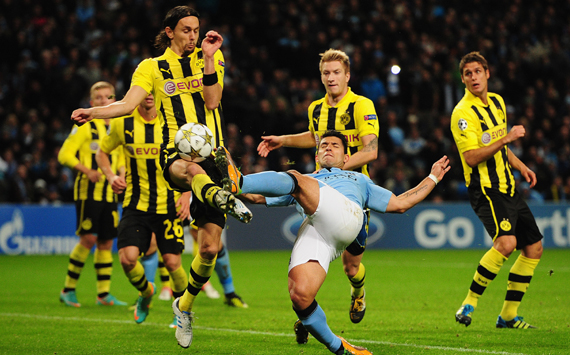 Saturday's 3-2 defeat at home to Tottenham was a difficult afternoon for the once-great Rio Ferdinand, who is decidedly in the twilight of his career. With Jonny Evans yet to fully convince, Nemanja Vidic increasingly crocked and both Jones and Smalling yet to mature, there could be room for another centre-back at Old Trafford.

In such a case, Subotic could be the man for Sir Alex. Strong and committed, if a little slow, the Serbian is an international colleague of Vidic and the dogged determination that he showed to his cause even when he made a slight mistake against Manchester City was reminiscent of the United captain.

The central defender is rated at around £14.5m but, with his contract set to expire in the summer of 2014, he is entering the vulnerable period where the power in any talks start to shift from club to player.
3. Mats Hummels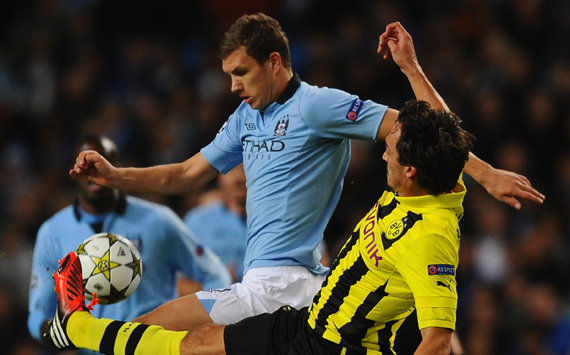 Hummels continues to impress in the Bundesliga, his growing class again on show so far this season - although the excellent displays have been interspersed with the odd off-day in 2012-13. Still, though, Bayern Munich's one that got away is one of the best centre-backs in the business.

With a market value at around £20m, he would represent a serious investment for Sir Alex and the United boss was not able to get a full look at his potential target at the Etihad Stadium. Straining to get on the end of an attacking set-piece, the Germany international fell awkwardly and was soon substituted. He had looked right at home against a poorly prepared City attack until then, however.
4. Ilkay Gundogan
Manchester United need a quality central midfielder. There's no two ways about it. Despite the best efforts of Paul Scholes, against the top teams the Red Devils are missing a big presence in the middle of the park. Perhaps Ilkay Gundogan is the man on Sir Alex's radar.

A Germany international - the man to whom Dortmund could turn after selling Nuri Sahin to Real Madrid and not suffer any noticeable damage - the 21-year-old has pedigree. Against City, he displayed a keen eye on the ball, picking his passes well and, occasionally, spectacularly - Robert Lewandowski should have turned in his peach of a second-half delivery.

With the midfielder's contract currently running until 2015, things could start getting interesting next summer if United are keen. BVB have the very highly rated Moritz Leitner waiting in the wings if Gundogan were to depart, as well.
5. Mario Gotze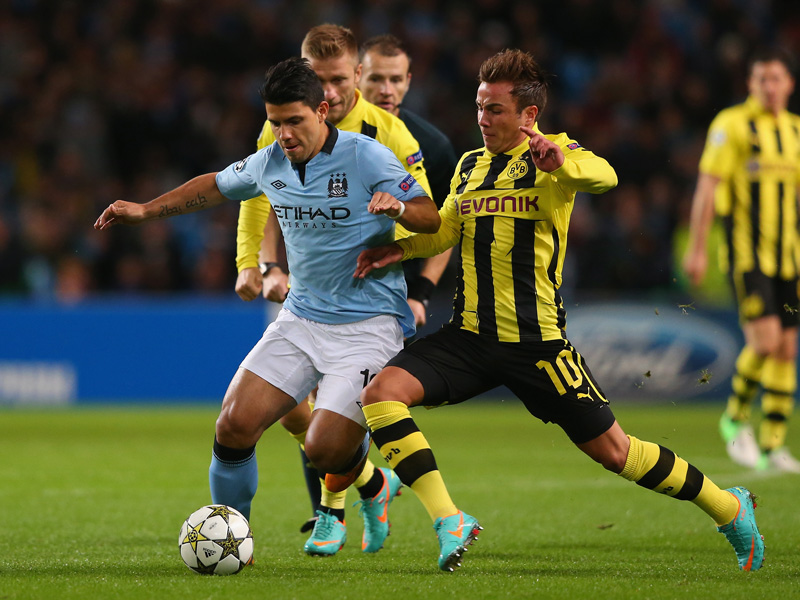 Perhaps the least likely of Sir Alex's possible scouting targets to materialise into a move due to his recent new contract at Signal Iduna Park and astronomical market value, which would pose a test to the 'Glazernomics' regime, Gotze is the sort of talent - like Robin van Persie - to whom the United boss may not be able to say no.

If Joe Hart had been in anything less than his inspired form on Wednesday, the Germany forward would probably have had at least a hat-trick, denied constantly by the City goalkeeper despite making some superb runs into space and interwoven fantastically with Marco Reus et al. Balotelli might have scored the penalty but he was not the only 'Super Mario' on the Etihad Stadium pitch.
6. Robert Lewandowski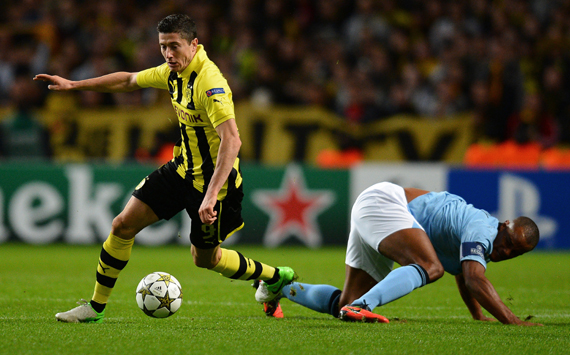 The Polish striker was suggested as Sir Alex's most likely scouting mission on Wednesday and there is certainly interest on both sides. Lewandowski met with officials from both United and City over the summer and is known to be keen on a move to England, particularly as he does not earn a huge amount at Dortmund.

What might now make a switch to Old Trafford less likely is the signing of Van Persie. In the Dutchman, the veteran manager now has a new focal point of his front line as well as Wayne Rooney, Danny Welbeck, Chicharito and Shinji Kagawa who can occupy key attacking roles.

Lewandowski's contract expires in 2014, however, and sooner rather than later might be the time to force that move to the Premier League. There may yet be room for him at Old Trafford, though a bad decision to finish with the outside of his boot from Gundogan's cross wasted a great opportunity to go 2-0 up and might not have reflected all that well on him to the watching United boss.
source:
http://www.goal.com/en-gb/slideshow/569/1/which-dortmund-players-were-sir-alex-ferguson-watching