Goal.com gives you the lowdown on all the candidates for this year's PFA awards.

Robin van Persie, Arsenal, Player of the Year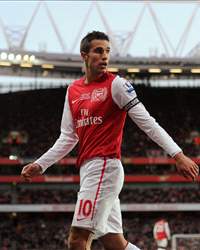 The Dutchman has been in scintillating form for the Gunners this year, carrying on his fine goalscoring record from the second half of last season into the new campaign to become Arsenal's main, and at times only, attacking threat.
A return of 27 goals in 34 Premier League appearances has long seen Van Persie cast as the frontrunner for the Player of the Year title, with the ex-Feyenoord man helping his side overcome a woeful start to the season and likely maintain their place amongst the top four.
Key PL Stats: Appearances: 34 | Goals: 27 | Assists: 10
Wayne Rooney, Man United, Player of the Year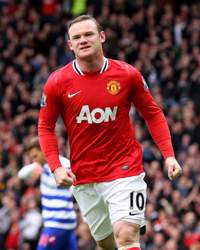 The striker began the season at a blistering pace with a hat-trick in the 8-2 demolition of Arsenal at the start of the season, and aside from a lull throughout in October and November, the former Everton man has once again been at the forefront of Manchester United's bid to retain their Premier League title.
The 26-year-old's double in the 3-3 comeback draw against Chelsea in February was a key moment in the Red Devils' season, with Rooney continuing his form going into the home straight.
Key PL Stats: Appearances: 30 | Goals: 24
Joe Hart, Man City, Player of the Year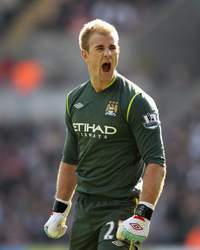 A stalwart in a City side filled with expensive stars, Hart has continued to go from strength to strength under the pressure of this season's title campaign, even if is his side look set to fall short.
Already accepted as the best goalkeeper in the Premier League in many quarters due to a series of commanding performances which has seen him keep 14 clean sheets this season, the 24-year-old has the chance to prove any few remaining doubters wrong at Euro 2012 this summer with England.
Key Stats: Appearances: 34 | Clean sheets: 14
Scott Parker, Tottenham, Player of the Year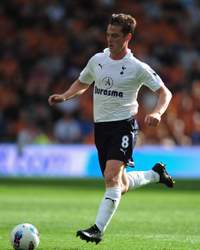 Last season's Football Writers' Player of the Year has successfully replicated his performances for West Ham 12 months ago across London to Tottenham in this campaign, with the 31-year-old forming a solid partnership with Luka Modric in central midfield.
Whilst Harry Redknapp's side's season looks on the verge of derailing, Parker has finally been rewarded with a permanent starting berth in the England set-up - and the captaincy in the recent friendly with the Netherlands - due to a string of impressive performances at White Hart Lane.
Key Stats: Aged: 31 | Appearances: 27
David Silva, Man City, Player of the Year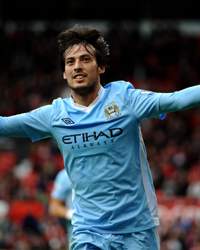 The Spaniard began the season with a bang as Manchester City romped to 34 points from their opening 12 games, with Silva's superb dribbling and passing ability receiving rave reviews from pundits and fans alike.
A return of six goals and 13 assists has seen the 26-year-old cast as a stand-out performer in a team brimming with talent, despite his dip in form just after the turn of the year which coincided with his side's downturn in the Premier League.
Key Stats: Appearances: 32 | Goals: 6 | Assists: 13
Sergio Aguero, Man City, Player & Young Player of the Year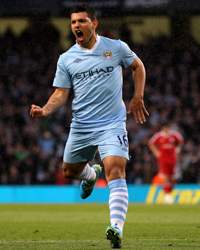 Following his £38 million switch from Atletico Madrid last summer, the Argentine did not take long to adapt to his new surroundings, scoring twice on his Premier League debut against Swansea City before grabbing his first hat-trick in English football just two games later against Wigan.
Much like team-mate David Silva, the 23-year-old may not have been as prolific throughout the winter months, but has returned to form of late, scoring seven goals in his last five games.
Key Stats: Aged: 23 | Appearances: 30 | Goals: 21 | Assists: 7
Gareth Bale, Tottenham, Young Player of the Year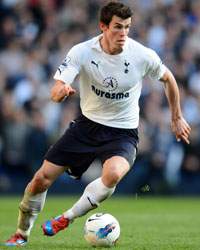 The current holder of the PFA Player of the Year award has already surpassed his return of seven goals from last season with 10 in the current campaign, as well as contributing eight assists in a Tottenham side which briefly threatened to challenge for the title.
While Spurs have gone off the boil dramatically in recent weeks, the Welshman has continued to threaten, and if the north London club do fail to qualify for the Champions League, the 22-year-old will be top of the list of summer targets for a host of Europe's elite.
Key Stats: Aged: 22 | Appearances: 31 | Goals: 10 | Assists: 8
Kyle Walker, Tottenham, Young Player of the Year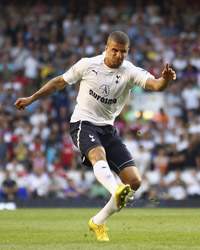 The 21-year-old has firmly established his place in Tottenham's starting XI this season with a series of impressive performances at right-back, with his overlapping runs from deep proving a key weapon in his side's attacking style.
The ex-Sheffield United man's form even forced Vedran Corluka to move to pastures new in search of first-team football, while Walker has also made the step up to the England senior set-up with appearances in friendlies against Sweden and Spain back in November.
Key Stats:
Aged: 21 | Appearances: 32 | Goals: 1
Alex Oxlade-Chamberlain, Arsenal, Young Player of the Year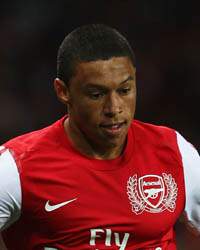 Having made just 13 league appearances this season, with eight of those coming as a substitute, the 18-year-old is somewhat of a surprise inclusion in this year's PFA nominations but has nonetheless looked impressive whenever he has featured for Arsenal.
The wideman's promising displays have often led to calls for him to replace fellow former Southampton man Theo Walcott in the Gunners starting XI, with Oxlade-Chamberlain also opening his league account with a double in February's 7-1 rout of Blackburn.
Key Stats:
Aged:
18 |
Appearances:
13 |
Goals:
2
Daniel Sturridge, Chelsea, Young Player of the Year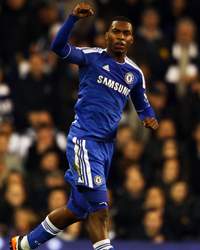 The 22-year-old has managed to transfer his goalscoring exploits from last year's loan spell at Bolton Wanderers back to parent club Chelsea this season, despite being deployed in a wide position which the striker has regularly noted his displeasure at.
Although he has not featured in his favoured role, Sturridge is the only Chelsea forward to reach double figures in the Premier League this season, and is also likely to be handed the chance to impress on the international stage for England at Euro 2012 this summer.
Key Stats:
Aged:
22 |
Appearances:
25 |
Goals:
12
Danny Welbeck, Man United, Young Player of the Year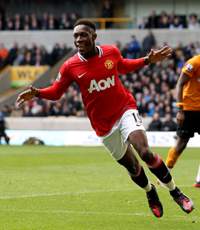 Also benefitting from a loan spell, Welbeck has already bettered the six goals he scored for Sunderland last year with eight in the current campaign, with the 21-year-old keeping established forwards Javier Hernandez and Dimitar Berbatov out of the side.
The striker's touch may be found wanting at times, but his fantastic movement has allowed him to form a potentially devastating partnership with the likes of Wayne Rooney and Antonio Valencia at Old Trafford as the Red Devils remain on course for their 20th Premier League title.
Key Stats:
Aged:
21 |
Appearances:
28 |
Goals:
8
source:
http://www.goal.com/en-gb/news/2896/premier-league/2012/04/17/3040855/van-persie-aguero-rooney-the-nominees-for-the-pfa-player