Ligue 1 2012-13 season review
Team of Year: Marseille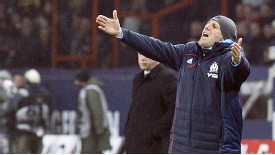 Elie Baup led Marseille into second place and the Champions League on a shoestring
There is no doubt Marseille under-performed last season, traipsing home 10th utterly disenchanted with Didier Deschamps, but even bearing that in mind, this campaign's effort to finish runners-up is the kind of miracle which the Vatican would take into account should Elie Baup ever be a candidate for beatification. With very few additions, nevermind improvements, on the 2011-12 line-up due to purse-strings being tightened to an eye-watering extent, OM triumphed handsomely in the race to become "the other Ligue 1 champion", as
France Football
put it recently. Who knows how close they might have pushed Carlo Ancelotti's boys had their squad's strength-in-depth extended even just a little beyond the first-choice XI.
Player of Year: Mathieu Valbuena
Only a spectacular trio - Lionel Messi, Eden Hazard and Mesut Ozil - have provided more assists than Mathieu Valbuena in the last two seasons, and the impish French international was the main thrust behind OM's fine finish. It is hard to believe Valbuena, rejected by Bordeaux as a youth, was initially deemed surplus to requirements at the Stade Velodrome by Deschamps, the same man who - this season - has found France cannot do without the OM muse en route to Brazil 2014. As much as providing the final pass, Valbuena's tireless industry inspires both OM and
Les Bleus
and Champions League qualification will ensure 'the Little Bicycle' remains at the Velodrome.
Manager of Year: Claude Puel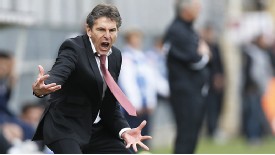 Claude Puel rebuilt his reputation at Nice after failing to bring the expected trophies to Lyon
No doubt: Nice boss Claude Puel. With the reputation he had so carefully and at times spectacularly built at Lille smashed to smithereens by three trophyless, joyless seasons at Lyon, Puel slunk back into Ligue 1 at the unlovable Stade du Ray. The nine points Nice picked up from their first ten games of the season must have brought a self-satisfied grin from Jean-Michel Aulas, though the embittered OL president would have been less content to see his team then pushed to the wire by Puel's side for third place. Eric Bautheac and Valentin Esseyric, his 11-game ban aside, proved inspired additions, and while Dario Cvitanich's goals certainly helped, Puel's ability to bring the best out of average players - take a bow, Didier Digard - was the key to the surprise performance of the season.

Game of Year Toulouse 3-4 Nice
Call me a hedonist, but forget a gripping tactical 'game of chess' or high stakes, what I want first and foremost is pure, unadulterated entertainment. Thrills and spills are not always easy to come by in the caution-first French top flight though, so when teams do cut loose, you relish the rare treat all the more. On paper and form, Toulouse versus Nice in early April was hardly expected to produce fireworks, but the pair served up something which only lacked Her Majesty and 007 to match Danny Boyle's London 2012 opening ceremony. Having led from the first minute and then come back to 2-2 at half-time, Nice scored not so much against the run but rather the tsunami of play washing towards their goal. A 90th-minute Toulouse equaliser was sandwiched by red cards - one for either side - before Kevin Anin finished quite brilliantly from the edge of the box. As jaded a hack as I am, even I was delirious.

Biggest Surprise: No stroll for PSG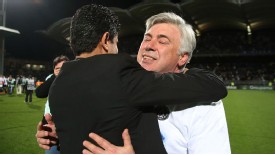 Al-Khelaifi congratulates Ancelotti after PSG won their first title since 1994
When Thiago Silva and Zlatan Ibrahimovic arrived last summer, PSG were expected to canter to the Ligue 1 title. The fact Ancelotti's men did lift the trophy, ending a 19-year wait in the process, was little surprise, though their triumph was far from the Sunday stroll down the Champs-Elysees many had predicted. The gap between the champions and runners-up OM looked rather impressive come the end of the campaign, but PSG only clinched their crown in their third-from-last game. Given the gulf in spending power between themselves and OM and OL, who were level on points with PSG at the halfway stage, it surely should have been a smoother ride. Had both rivals had greater options and quality at their disposal, it would have been bumpier still.

Biggest Talking Point: Uncertainty in Paris
There is no doubt PSG's Qatari owners have the right 'project' to make the club a European force and the financial wherewithal to achieve it, but with Carlo Ancelotti's request to leave the Parc des Princes for pastures new, presumably for the wide open spaces of the Santiago Bernabeu, they face a crucial summer. Club president Nasser Al-Khelaifi and even Javier Pastore have insisted the 'project' is bigger than any one man, but if Ancelotti only just about managed to unite the most disparate of dressing-rooms, his successor will need to be of similar ilk and even greater skill to take the club forward, and such men are in short supply.
Will players, such as Ibrahimovic and Silva, who have pinned their colours to Ancelotti's mast, depart with him meaning further high-profile arrivals who will take time to settle and whose egos will require reining in? Perhaps. Will Leonardo, who now seems most likely to take over, be able to prove as successful an interim coach as Rafael Benitez was at Chelsea? Far from certain. With Monaco and the billions of their Russian owner riding over the horizon on a horse named 'Title-winning ambition' for the 2013-14 campaign, can PSG meet the challenge?
source:
http://espnfc.com/blog/_/name/espnfcunited/id/6052?cc=4716