Arsene Wenger and the Gunners' board are taking a more pro-active approach to their summer recruitment plans following the mis-managed transfer policy of last year
With £55 million swelling the transfer kitty, a transformation in playing fortunes and Lukas Podolski lined up for the summer, the advent of spring has coincided with Arsenal's garden taking on a rosy hue.
The green shoots of recovery have been evident in the club's climb to within a point of third-placed Tottenham in the Premier League but further growth is planned over the coming weeks as Arsenal lay the foundations for a significant recruitment drive.

Arsene Wenger and the Gunners' board of directors have privately vowed not to repeat the mistakes of last summer, when the club's transfer plans were so badly mismanaged that five players, many of them low down on the original list of targets, were hastily recruited in the final 48 hours of the window.

Key to the forward planning is to line up targets in advance, ascertain their availability and willingness to move to north London, the financial demands of the player and his club, and to clinch a deal - informal or otherwise - as early as possible.


ARSENAL'S DREAM 2012-13 XI?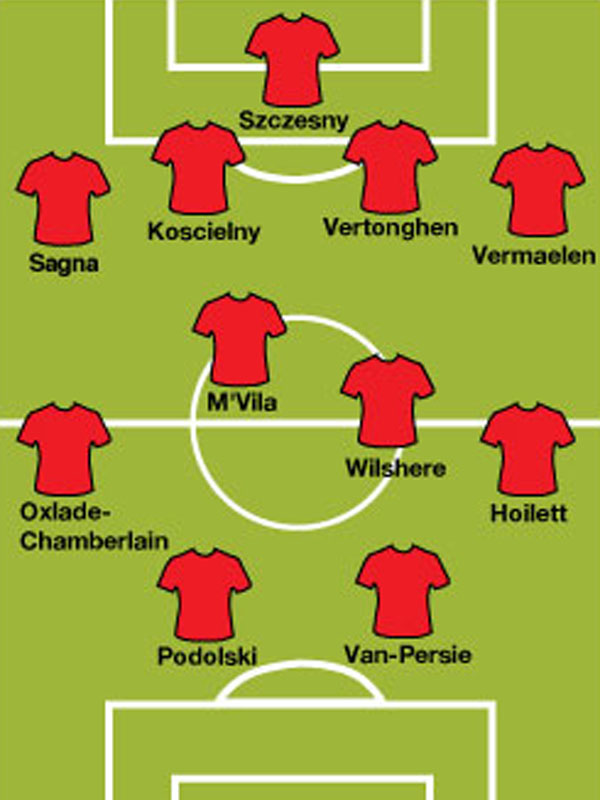 SUBS: DEMBELE, RAMSEY, SONG, DIABY, GIBBS, WALCOTT, SANTOS
The futures of Robin van Persie and Theo Walcott could cast as big a shadow over Arsenal's summer as those of Cesc Fabregas and Samir Nasri did last year, but the club are confident it will not railroad their plans to the same degree.
An agreement is already in place for Germany international
Podolski
to join from Cologne for £10.8m in the summer and the north Londoners will now turn their attention to other senior targets.
As
Goal.com
revealed on Wednesday, Fulham playmaker
Moussa Dembele
has caught the eye of Wenger and his scouts with a string of polished displays since taking up a deeper role for the west Londoners, who rate him in the £15 million bracket.
Borussia Dortmund attacking midfielder Mario Gotze, the 19-year-old darling of German football, is another high profile target - although his price tag of between £25-30m could be a hurdle too high for Arsenal, who failed in a bid to sign him last summer.
Eden Hazard, the brilliant young Belgian, has been closely monitored by Wenger and his scouts but Arsenal are reluctant to get involved in a bidding war for the Lille playmaker, who came close to joining Tottenham in January following a series of meetings between chairman Daniel Levy and the Ligue 1 club.
Another attacking player who is considered a more realistic signing for Arsenal is Blackburn Rovers' contract rebel
Junior Hoilett
, who is regarded as a natural successor to Andrey Arshavin.
The 21-year-old will be available for a small compensation figure in the summer when his agreement with Rovers ends and Arsenal are confident that they are now in the driving seat to secure the signing of the Canadian ahead of Liverpool, Manchester City, Spurs and Bayern.
It is understood that Wenger believes Hoilett could eventually be converted from a wide player - he plays almost exclusively on the flanks for Blackburn - into a centre-forward much in the same way that Thierry Henry was more than a decade ago.
In addition, Arsenal remain keen on signing Rennes' coveted defensive midfielder
Yann M'Vila
, who has emerged as one of the mainstays of the new-look France team.
But M'Vila is a man in demand and, while Rennes have gone public on their expectation that the 21-year-old will not be at the club next season, Real Madrid are also closely pursuing the Frenchman and have the resources and status to secure a player whose fee could rise beyond £25m and out of Arsenal's reach.
Arsenal will also be in the market for an established left-back in the summer, with serious doubts among the staff about the calibre of both Kieran Gibbs and Andre Santos.
There is a less pressing need for a centre-back due to the rapid improvement of Laurent Koscielny, although Thomas Vermaelen's Belgium and former Ajax colleague
Jan Vertonghen
will be available for a cut-price £10m in the summer and is being closely monitored by the club.
Nevertheless, there are only so many bricks Arsenal can put in place in early March. The club's ambitions are hugely dependent upon qualification for the Champions League for a 15th consecutive season. Failure to do so would be a "catastrophe" and a "disaster", according to Wenger.
Arsenal would miss out on around £40m if they do not clinch a top-four place, although there is no precise figure because of the variables involved. Either way this would have a considerable knock-on effect on the club's transfer plans, especially as revenues remain flat and there is no immediate end to the club's weak commercial returns.
Then there is the potentially seismic effect the possible departure of Van Persie could have, not only on the strength of Wenger's squad but also on the club's capacity to attract marquee players.
Wenger is being genuine with his belief that the flying Dutchman, scorer of an astonishing 26 league goals this season and 33 in total, will not leave even if he does not extend a contract that expires in just over a year's time and that Podolski has been signed to complement the captain rather than replace him.
As disclosed by Goal.com last month, Arsenal chief executive Ivan Gazidis has told Van Persie that he will not be sold "at any price" this summer, with the club willing to forego a fee of around £20m even if it means losing him for nothing next year.
With Walcott's contract situation also unresolved, it demonstrates that events are not entirely under Arsenal's control.
Yet the club are confident that the chronic failures of last summer will not be repeated as they pursue a more proactive recruitment policy in a bid to allow the team to flower.
source:
http://www.goal.com/en-gb/news/2896/premier-league/2012/03/14/2964857/fao-editor-from-podolski-to-dembele-hoilett-mvila-and-vertonghen-