1. The first direct incarnation of the club was known as Football Club Sky formed in 1895. In 1900, the club split into New Foot-ball de Madrid and Club Espanol de Madrid. The latter club's president Julian Palacios eventually led a breakaway to help create Sociedad Madrid FC on March 6, 1902.
2.
Madrid CF's first two official club presidents were both Catalans. Joan Padros Rubio presided over the board from 1902 to 1904 and was succeeded by his brother Carles Padros Rubio from 1904 to 1908.
3.
Three years after Madrid FC was formed, they won their first official title after defeating Athletic Bilbao to lift the Copa del Rey in April 1905.
4.
Madrid legend Alfredo Di Stefano became the first player to win the Pichichi award four times in a row from 1956 to 1959. He has five wins in total.
5.
Real Madrid are the only club to win the league five times in succession. They accomplished this feat twice, the first between 1961 and 1965, and the second between 1986 to 1990.
6.
Madrid have never won the treble. But they have achieved the double (either La Liga plus Copa del Rey or La Liga and the European Cup) six times in the past.
EL SIETE - THE RECORD BREAKER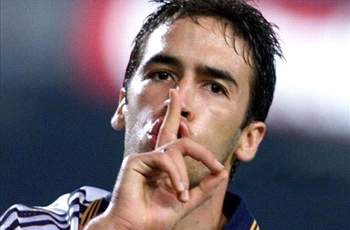 7.
Madrid's all-time top scorer is their iconic former No. 7 Raul with 323 competitive goals, 228 of them in the league, which is also a club record.

8.
Real's biggest defeat in La Liga was against Espanyol when they lost 8-1 in 1929-30.
9.
Real have been European champions on nine occasions. Their biggest win in the competition was a 9-0 victory over Danish side Boldklubben 1909 in 1961-62.
10.
Cristiano Ronaldo scored Real Madrid's fastest hat-trick when he took just 10 minutes to bag his treble in the 6-2 win at Sevilla in May 2011.
11.
Madrid's biggest victory in La Liga was an 11-2 win over Elche on 7 February 1960. Their biggest victory in any competition was against Barcelona when they beat the Catalans 11-1 in a Copa del Rey (known then as Copa del Generalisimo) semi-final in 1942-43.
12.
Ferenc Puskas scored a total of 12 goals in the 1959-60 European Cup campaign, the most goals a Madrid player has scored in a single season in the tournament.
13.
The first ever Clasico was played on May 13, 1902. Barcelona defeated Madrid 3-1 in a friendly match.
14.
Between 1961 and 1980, Los Blancos were so dominant in Spain that they won 14 La Liga titles in 20 seasons. Between 1961 and 1990, Madrid won 19.
15.
Miguel Munoz is the club's longest-serving coach, totalling 15 years and 604 competitive matches. He won 14 titles during that span.
16.
Madrid have qualified for the Champions League in 16 seasons, the joint second-best record in the competition behind Manchester United with 17.
17.
On December 17, 1922, Real Madrid saw Juan Monjardin become their first Spanish international when he played in a match against Portugal.
18-YEAR COPA WAIT OVER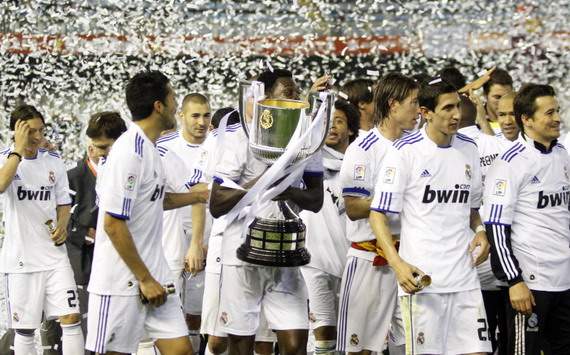 18.
Madrid have claimed the Copa del Rey on 18 times and there was an 18-year gap between their last two victories, in 1993 and 2011.
19.
The first-ever competitive Clasico was on May 19, 1902 in the semi-finals of the Copa del Rey, which Barcelona won 3-1. It was also to be Madrid FC's first official game.
20.
Fifa named Real Madrid the 'Best Club of the 20th Century'.
21.
Madrid FC's first game after its formation was a match between the club's members. One team wore blue and the other red. They eventually adopted their all-white shirts from London-based club Corinthians FC in 1902.
22.
Madrid have appeared in the semi-finals of the European Cup/Champions League 22 times, a record in the competition.
23.
David Beckham won just two trophies in his four-year spell at Madrid, claiming the Spanish Supercopa right at the beginning of his time at the capital club, and adding La Liga in his very last game for Los Blancos.
24.
Raul's final competitive game in the famous white shirt was on April 24, 2010 in the 2-1 La Liga win at Real Zaragoza.
25.
Real Madrid players have won the Pichichi award a total of 25 times, a record in the league. The club's first La Liga top scorer was Manuel Olivares in 1932-33 when he netted 16 goals in 14 games.
26.
Madrid participated in the European Cup 26 times prior to the tournament being renamed the Champions League.
27.
The 1953-54 La Liga campaign was Alfredo Di Stefano's first season as a Real Madrid player. He scored 27 goals in just 28 appearances.
ANGEL IN RED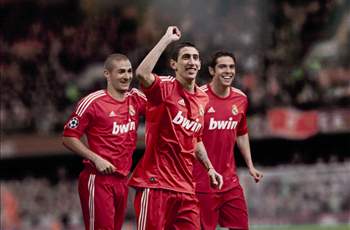 28.
Angel Di Maria is the first player to score a goal for Madrid in a red shirt, the team's third-choice kit this season. A red-coloured shirt had only been used on three previous occasions, but Los Blancos never managed to score.
29.
Madrid received their 'Real' (royal) title on June 29, 1920 from King Alfonso XIII.
30.
Vicente del Bosque spent 30 years in total at Real Madrid (first team and reserve team). He won nine trophies as a player, and seven as a coach.
31
. Real Madrid are the record champions in the Spanish top flight, finishing first in La Liga 31 times. Their lowest-ever league placing was 11th in 1947-48.
32.
Madrid went unbeaten on their way to their first league title in 1932, winning 10 games and drawing eight in an 18-round campaign, finishing three points ahead of runners-up Athletic Bilbao.
33
. Real Madrid played their first match at the Santiago Bernabeu (then named Nuevo Estadio Chamartin) in a 3-1 victory over Os Belenenses. Sabino Barinaga scored the first-ever goal at the renamed ground.
34.
Although now 34, Alberto Rivera is the youngest player to debut for Madrid's first team in the league at 17 years and 114 days, beating the previous record set by Raul by just 10 days. Rivera also became the club's youngest goalscorer in La Liga when he netted in the 2-0 win over Celta Vigo in June 1995 in that same debut game.
35.
Santiago Bernabeu was Madrid's club president for almost 35 years from September 1943 to June 1978. During his tenure, Los Blancos won six European Cups, 16 La Liga titles, 6 Copas del Rey, and one Intercontinental Cup. He is also credited with revolutionising Real, starting with the signing of Alfredo Di Stefano.
36.
Santillana, who is the club's third-highest all-time goalscorer, retired from football at the age of 36.
37.
Madrid's first-ever European Cup match was a 2-0 win over Servette on September 8, 1955.
MADRID'S MIGHTY MAGYAR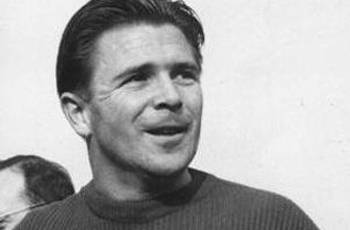 38.
Hugo Sanchez scored 38 goals in La Liga in 1989-90 to tie a Pichichi record set by Athletic Bilbao great Telmo Zarra in 1951 and which stood until the 2010-11 season.
39.
Ferenc Puskas was almost 39 when he played his last season for Real in the 1965-66 campaign.
40.
Cristiano Ronaldo set a new La Liga record in 2010-11 by netting 40 goals in a single season.
41.
However,
Marca
, who awards the Pichichi prize, claimed it was 41 goals, including a free-kick which had deflected off Pepe against Real Sociedad although officially, the referee had awarded it as an own goal.
42.
Madrid sold Robinho to Manchester City in 2008 for €42.5 million, the highest transfer fee Los Blancos have received for a player.
43.
Real Madrid won the inaugural European Cup on June 13, 1956 by beating Stade Reims 4-3 in the final.
ZIZOU ON CUE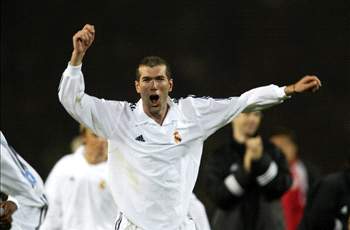 44.
The exact time on the clock was 44 minutes and 36 seconds when Zinedine Zidane scored his left-footed volley for Madrid in the 2002 Champions League final against Bayer Leverkusen at Hampden Park.
45.
Ronaldo joined Real Madrid from Inter for €45m in the summer of 2002, fresh off his heroics for Brazil in the World Cup in Japan-Korea.
46.
Jose Mourinho is the 46th different coach to have taken charge of Real Madrid. Their first was Arthur Johnson.
47.
Ferenc Puskas scored 47 goals in 38 competitive games for Madrid in 1959-60, the most he scored for the club in a single season.
48.
The first Real Madrid office was a boutique called 'Al Capricho', and it was at No. 48 in Alcala.
49.
Raul's last competitive goal for Real Madrid came in the 49th minute in the 2-1 victory over Real Zaragoza.
50.
Real Madrid legend Emilio Butragueno holds the Liga record of successive games unbeaten. He did not lose for 50 consecutive league matches in the 1980s.
51.
Los Blancos were the first-ever club champions of the world when they defeated Penarol 5-1 at the Santiago Bernabeu in the inaugural Intercontinental Cup back in 1960.
52.
One of Madrid's nicknames, Los Merengues - in reference to their all-white kit resembling a cake made entirely of egg white - was first coined in the magazine
España Sportiva
on January 3, 1917.
MADRID'S NEW GOLDEN BOY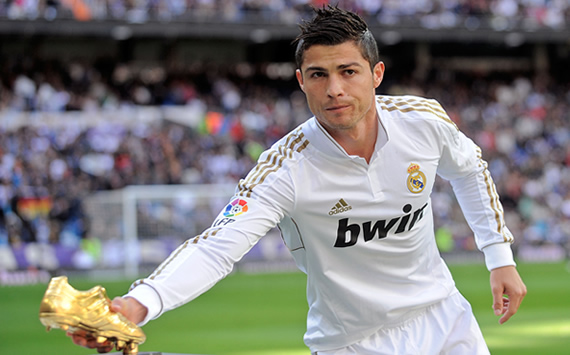 53.
Cristiano Ronaldo scored a club record 53 goals in all competitions in the 2010-11 campaign.
54
. Madrid have qualified for 54 out of 56 Uefa club competitions. They only missed out in 1977-78 and 1996-97.
55.
It was in January 1955 that the club decided to rename their stadium in honour of then president Santiago Bernabeu.
56.
Prior to the Santiago Bernabeu/Nuevo Chamartin, Madrid's previous grounds included the (original) Chamartin, the Velodromo de Ciudad Lineal, O'Donnell, Desmontes de Moncloa, La Estrada, Explanada de la Plaza de Toros and Hipodromo.
57.
Luis Figo scored 57 goals in 239 games in all competitions during his five-season spell at Real Madrid. He only scored 45 in 249 with Barcelona.
58.
In 80 seasons and 2,534 La Liga matches, Madrid have a 58.2 win percentage, having claimed 1475 victories and losing 538. They have scored 5,285 goals and conceded 2,915.
59.
The Bernabeu played host to the Euro 1964 final, the 1982 World Cup final, the European Cup finals in 1957, 1969 and 1980, as well as the 2010 Champions League final.
60.
Luis Figo infamously joined Madrid from Barcelona for €60 million in the summer of 2000. He is the 15th player to switch directly from Barca to Los Blancos. The first was Alfonso Albeniz.
61.
Madrid defeated their own 'B' team Castilla 6-1 to win the 1980 Copa del Rey.
62.
During his time at Madrid, Mesut Ozil has already changed his shirt number four times. He was given the No. 26 upon his arrival and throughout pre-season, but changed to No. 19 for his official debut. He then took over the No. 23 left vacant by Rafael van der Vaart's departure, and at the start of the 2011-12 term, he inherited the No. 10.
63.
Real Madrid were the first club in the Spanish top flight to win back-to-back league titles, successfully defending the crown they won in 1931-32 the following season.
KEY MILESTONES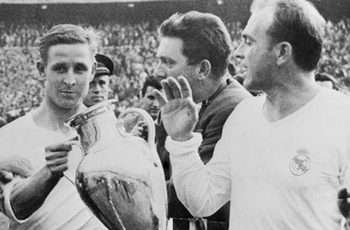 1.

Julian Palacios helped form Madrid FC, known today as Real Madrid.


3.

Madrid won their first title in 1905, three years after their formation.


20.

Named by IFFHS as the Best Club of the 20th Century.


32

.

They clinched their first La Liga title in 1932.


35.

Santiago Bernabeu served as club president for 35 years. He signed Di Stefano and kick started
Real Madrid's
revolution


43

.

Madrid won the inaugural European Cup in '56, beating Stade Reims 4-3.
64.
Ronaldo made his Real Madrid bow as a 64th-minute substitute against Alaves in October 2002. He scored twice on his debut in the 5-2 win.
65.
Current supremo Florentino Perez, who turned 65 on March 8 - two days after the club's anniversary - is the only man apart from Adolfo Melendez to have served two separate stints as Los Blancos' president.
66.
The Madrid that won the 1966 European Cup were known as the Ye-Ye team. This was because they had a young all-Spanish generation of players starring the likes of Amancio Amaro, Pachin, Pirri and Manuel Sanchis. The name Ye-Ye comes from the catchy chorus of the Beatles song 'She Loves You' (yeah yeah yeah) - and the team earned the nickname after four players famously posed for
Marca
wearing Beatles wigs.
67.
Predrag Mijatovic's 67th-minute goal in the 1-0 win over Juventus in the 1998 Champions League final gave Madrid their seventh European Cup to put an end to a 32-year wait from their last triumph in 1966.
68.
In 163 El Clasico encounters in La Liga, Madrid have won 68, losing 64 with 31 meetings ending in a draw.
69.
Amancio Amaro won the 1969 Pichichi award by scoring just 14 goals.
70.
Fernando Morientes is the last Madrid player to score five goals in a single La Liga game. He bagged his quintuple in the 7-0 win over Las Palmas in February 2002.
71.
Raul is the Champions League's all-time top scorer with 71 goals; 66 of them were scored for Real Madrid.
72.
Los Blancos have won 72 major titles overall in the following competitions: La Liga, Copa del Rey, Spanish Supercopa, European Cup/Champions League, Uefa Cup, Uefa Super Cup, Intercontinental Cup.
73.
Madrid's 7-3 win over Eintracht Frankfurt in the 1959-60 European Cup final is the highest-scoring final in the competition's history. The victory gave Real their fifth consecutive continental crown and they were thus allowed to keep the trophy.
74.
Zinedine Zidane was signed by Madrid from Juventus for €74m, currently the second-most expensive football transfer in history.
75.
'Zizou' joined Juve in 1996, a year after they had won the Champions League. The Frenchman went on to play in two losing finals with the Old Lady before eventually lifting the European Cup in 2002 with Madrid.
SPECIAL ONE'S SPECIAL STATS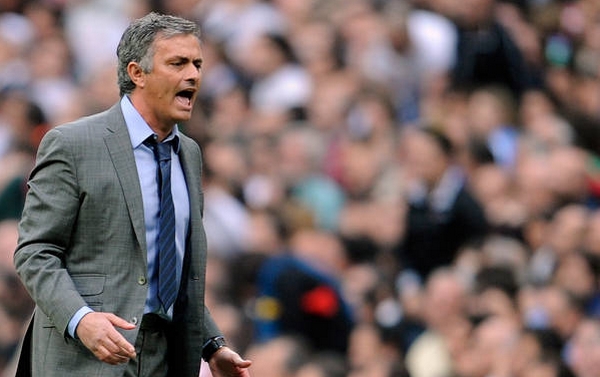 76.
Jose Mourinho's current 76.77 win percentage for Real Madrid is the best of any of the club's coaches who were in charge for more than one game.
77.
Iker Casillas is the only remaining player from the Galactico era and the only current Madrid squad member who has won La Liga, the Copa del Rey, the Champions League, Intercontinental Cup, Uefa Super Cup, Spanish Supercopa, as well as a European Championship and a World Cup with Spain.
78.
Former Madrid playmaker Guti had the name 'Guti.Haz' on the back of his shirt from 2007-08 onwards. The H in the 'Haz' stands for his second surname Hernandez, the A is for his son Aitor and Z for his daughter Zara.
79.
In 2010, Real Madrid became the first club in any sport to generate a revenue of over €400m in a single year, according to Deloitte.
80.
In 146 league encounters against local rivals Atletico Madrid, Real have won 80 times, losing 35 and drawing 31.
81.
The current La Liga edition is the 81st. Real Madrid have taken part in all 81 seasons, the only club in Spain to do so along with Barcelona and Athletic Bilbao.
82.
In the 82nd minute of the 4-2 win over Almeria on December 5, 2009, Cristiano Ronaldo saw his penalty saved by Diego Alves. That was the last time CR7 failed to convert a spot-kick and he is now on a run of 21 successful conversions in La Liga, just four behind the all-time record of 25 set by Barcelona's Ronald Koeman.
83.
In the 1982-83 season under coach Alfredo Di Stefano, Madrid completed a 'bridesmaid's treble' when they finished runners-up in La Liga, the Copa del Rey and European Cup Winners' Cup.
KEY MILESTONES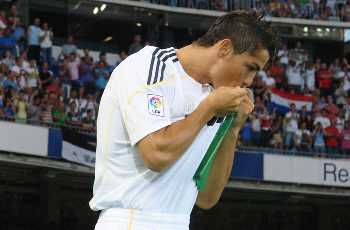 44.

Zidane's 44th min goal gave the club their last European Cup triumph in 2002.


73.

Madrid's 7-3 win over Eintracht, regarded as the best football game ever played, clinched the club's fifth successive European Cup.


81.

Madrid have never been relegated and have taken part in all 81 La Liga seasons.


89.

Miguel Munoz scored Madrid first goal in the European Cup. Di Stefano scored the club's first in a final.


94.

Madrid signed Ronaldo for a world record €94m.


101.

Arthur Johnson scored Madrid's maiden goal. He went on to become the team's first ever coach.
84.
In the 1984-85 campaign, Madrid went nine games without a victory in the league, the club's worst winless run.
85.
This season after 25 rounds of matches in La Liga, Madrid have already scored 85 times at an average of 3.4 goals per game. At this rate, they will score 129 goals by the end of the campaign.
86.
In 217 official Clasico matches against Barcelona in all competitions, Madrid have won 86, losing 85 and drawing 46. Los Blancos have scored 364 goals and conceded 351.
87.
During the 1987-88 season, Madrid won a club record 18 out of 19 league games at home. They would go on to repeat the feat in 2009-10.
88.
Kaka has made 30 appearances in all competitions so far this season for Madrid and has provided 11 assists in total, just three shy of his all-time high in a single campaign which came in 2008-09 with Milan.
89.
Miguel Munoz has the honour of scoring Madrid's maiden goal in the European Cup. Alfredo Di Stefano was the scorer of the club's first goal in a European Cup final, after his side had gone 2-0 down against Stade Reims in the 1956 showpiece event.
90.
Xabi Alonso is the most expensive Spanish player that Madrid have signed. He cost the club €30m when he joined from Liverpool in 2009. Sergio Ramos is the second-most expensive at €27m.
91.
With 96 La Liga goals from 88 appearances, Cristiano Ronaldo has a league-record ratio of 1.09 goals per game. The second best is Telmo Zarra with 0.91 goals per game.
92.
Jose Mourinho's famous unbeaten home record in league games ran for nine years and two months before it was ended by Sporting Gijon's 1-0 win at the Santiago Bernabeu on April 2, 2011.
93.
Real Madrid's own record unbeaten streak at home spanned nine seasons, lasting 121 matches from 1956-57 to 1964-65.
THE ONE AND ONLY ALFREDO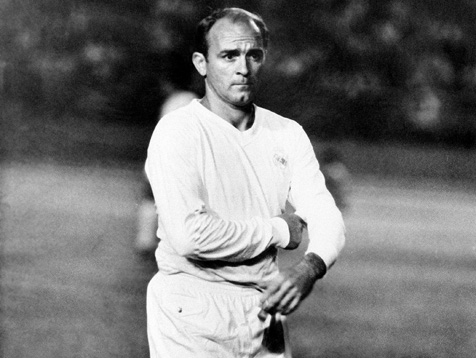 94.
Madrid paid Manchester United a football transfer record of €94m for Cristiano Ronaldo in 2009.
95.
Alfredo Di Stefano currently holds the record for making the most consecutive La Liga appearances for Madrid. He played 171 league games in a row spanning five years and 148 days.
96.
Manuel Pellegrini set a new points record of 96 for Real Madrid in 2009-10, but it was not enough to win La Liga, nor to save him his job.
97.
In the 1997-98 season, Madrid kept a club record seven consecutive clean sheets in La Liga.
98.
Ferenc Puskas and Santillana are Madrid's joint-top scorers in Copa del Rey matches with 49 goals each.
99.
On September 1999, Iker Casillas made his first-team debut as a substitute for Bodo Illgner in the 2-2 draw against Athletic Bilbao at San Mames.
100.
On their 100th anniversary, Madrid famously lost the Copa del Rey final at home to Deportivo La Coruna.
101.
Arthur Johnson scored Madrid's first-ever goal on May 13, 1902 in a 3-1 defeat to Barcelona. Jaime Lazcano scored the club's first-ever La Liga goal. Their 1,000th club goal was scored by Pahino. Gento scored their 2,000th, Juanito their 3,000th, Ivan Zamorano their 4,000th and Guti grabbed the team's 5000th.
102.
Apart from Madrid's first-ever goal, the club won all of their matches when they netted their landmark goals above.
103.
From September 24, 2011 to December 7, 2011, Madrid strung together 15 victories in succession in all competitions, the club's longest winning streak. Their record winning run in La Liga is also 15, set in 1960-61.
SAN IKER DEBUTS IN SAN MAMES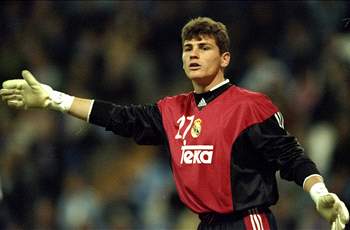 104.
Despite a glorious era as the club president from 1943 to 1978, Santiago Bernabeu had only eight games under his belt as a Madrid coach, winning five matches and losing the other three.
105.
Cristiano Ronaldo took just 105 games in all competitions to reach a century of goals for Madrid.
106.
Luis Molowny was appointed Madrid coach on four separate occasions (either permanently or as caretaker), more than any other coach at the club.
107.
Madrid hold the Spanish record for most goals in a league campaign, with a haul of 107 under John Toshack in 1989-90.
108.
Alfredo Di Stefano's first stint as Madrid coach lasted 108 competitive matches from April 1982 to April 1984. He won 63 games, drew 23 and lost 22.
109.
Di Stefano returned to the Madrid hot-seat from November 1990 to March 1991 and picked up his only silverware as coach when he won the Spanish Supercopa.
110.
As they celebrate their 110th anniversary, Madrid are first in La Liga, 10 points clear at the top and have won their last 10 Primera Division matches. They are also chasing their 10th European Cup/Champions League success this term.
source:
http://www.goal.com/en-gb/news/3277/la-liga/2012/03/10/2957854/110-facts-about-real-madrid-on-their-110th-anniversary