With the World Cup rapidly approaching, attention has already turned to the naming of each country's provisional squad ahead of the competition. Managers will focus on picking a functional blend of players based on experience and form, but surely it must creep into each selector's mind that it would be useful to have a steady head from 12 yards out available if a penalty was to be awarded?
Mario Balotelli's stature as Italy's best striker meant he was never really going to miss out on a spot at the World Cup, despite the increasingly improved form of his compatriots in front of goal, but weighing in his favour too is his ability from the spot. However, the controversial AC Milan striker may have seen his seemingly unwavering confidence take a hit after he missed a penalty for the first time in his career against Napoli in September, and followed that up only two months later with another saved spot kick against Genoa's Mattia Perin.
There is now hope for those stoppers who come up against the forward in a 12-yard battle, given that Balotelli scored a relatively low four out of six penalties for Milan in Serie A and the Champions League this season, but a conversion rate of 89.5 percent (17 scored from 19 attempts) since the last World Cup in league and European competition shows his undoubted pedigree from the spot, even if there has been a wobble in the lead-up to Brazil 2014.

There is little pattern in Balotelli's penalties; his are something of a game for him, in which he looks to outfox the goalkeeper and put the ball to the opposite side that his opponent dives. Pepe Reina and Mattia Perin have shown there is some beating him, but when he finds the corner you have little chance. With Balotelli having scored in a shootout win over England at Euro 2012, the Three Lions will know all about his penalties.

Contrary to popular opinion, though, Balo isn't the most successful penalty taker in Europe's top five leagues and the Champions League since the last World Cup. England's Leighton Baines has taken significantly fewer penalties (11) than Balotelli, but he is the only player to have taken more than 10 penalties in the aforementioned competitions in the last four years and maintained a 100 percent success rate.

Baines, along with Southampton's Rickie Lambert -- who has six from six in the Premier League and has famously only missed once in his professional career -- provide some hope for England's World Cup and shootout dreams. Both are deserving of places in the England squad nonetheless, but Hodgson would undoubtedly have been nudged towards selecting them given their success from the spot.
The true penalty king is, however, Belgium and Chelsea's Eden Hazard. The winger missed one in the Champions League against Nordsjaelland, but has scored all of his other 16 penalties in the last four seasons, a time in which the youngster truly came to prominence. His 94.1 percent conversion rate is second only to Baines (though he has taken six more penalties), with Hazard clearly able to go either to the goalkeeper's right -- a right-footer's natural side -- or to his left. Usually, a staggered run-up is enough to draw the goalkeeper into making the first move, only for Hazard to push the ball the opposite way.
Cristiano Ronaldo is not far behind with a brilliantly impressive success rate from the spot of 92.3 percent, maintaining that despite having taken more penalties (39) than any other player since August 2010. Ronaldo tends to use brute force and precision in his penalty taking -- in contrast to Balotelli and Hazard -- and his approach tends to work. Indeed, 36 of his spot kicks have ended up in the net in that time frame, and he has only missed when going straight down the middle. Ronaldo was left to take the fifth and final penalty in Portugal's Euro 2012 semifinal against Spain, but after others missed he didn't get the chance to take one. They will surely make no such mistake this time around.
A crucial penalty miss from Lionel Messi as good as cost Barcelona a place in the Champions League final at Chelsea's expense in 2012. It is hard to criticise arguably the greatest player of his generation and one of the best of all time, but given just how good he is, it is not unreasonable to question his ability from 12 yards when it really matters. He has scored 88.6 percent of his penalty attempts in the last four years, and going by the placing of his shots, it is a better bet for him to open his body up and go to the goalkeeper's right, with all of his misses coming when he chooses his "natural side."
Edinson Cavani is one of the most expensive, sought-after and highly rated strikers in the world, who has persisted from the penalty spot despite registering a wholly unconvincing 69.2 percent success rate from the spot over the last four seasons. Having played alongside Zlatan Ibrahimovic this season, opportunities to take penalties have been few and far between. Nonetheless, Cavani has scored all three of his penalties since moving to PSG, but only 18 from 26 attempts over the last four years leaves a lot to be desired. Of the five players focused on here, Cavani is the only one to have completely missed the frame of the goal from 12 yards since August 2010. Joe Hart may well be hoping it is Cavani who steps up if Uruguay win a penalty against England in their clash on June 19.

Penalties are, to some extent, a lottery. But for the best and highest-paid footballers on the planet who will be on show in Brazil this summer, there is a much greater chance of success. Goalkeepers will study their opponents' tendencies from the spot, and there is a chance of stopping them, but the odds are well and truly stacked against those between the sticks.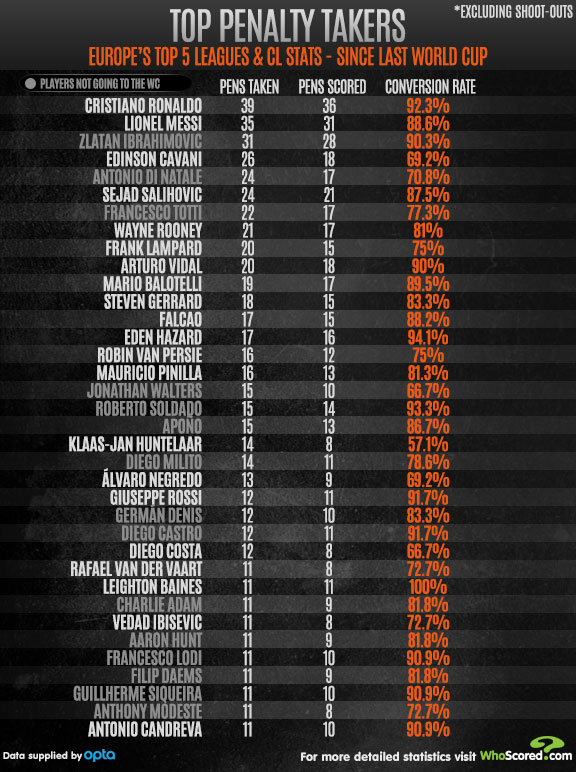 source:
http://www.espnfc.com/blog/_/name/worldcupcentral/id/4374?cc=4716