Kedah's kids growing up on the big stage
Be honest. How many of us really gave Kedah a chance of drawing with – never mind beating - Pahang in the first leg of the Oppo Malaysia Cup semi final first leg on Sunday? Not me, for sure. If you look at the respective teams you see oodles of experience and quality in the Pahang starting XI, and a bunch of kids with heart propped up by three good foreigners and Baddrol Bakhtiar for Kedah.
This was a "no contest" on paper. Even after Kedah's Scottish coach Ian Gillan marked my card by explaining that the Quarter Final victory over Kelantan was no one off, and that "these kids can play".
Like so many others, I was so wrong about Kedah. We hadn't really looked at the crop of kids coming through the ranks at Kedah. We hadn't given the North Western state the credit they deserved for getting past Terengganu, Sarawak and Perak in the group phase of the Malaysia Cup. We looked at the problems facing Sarawak, and were surprised when Kedah went to Terengganu and got a draw. Terengganu must have had an off night – we reasoned. As must Perak when the Super League team were comprehensively beaten 2-0 in the deciding group game in Alor Setar.
We still hadn't looked at what was going on at Kedah. We hadn't studied the individual qualities of the young players being groomed at Kedah so we were absolutely shocked when they demolished Kelantan in the quarterfinals.
Close inspection reveals that Kedah have coached and introduced a talented crop of youngsters over the season so much so that in the high profile matches against Kelantan and Pahang, young talent such as the teenaged Farhan Roslan, Rizal Ghazali, Syafiq Tajuddin, Syafiq Ahmad and Hanif Dzahir were instrumental in keeping their much vaunted opponents at bay.
Hanif looks a like a veteran already in midfield and conceded possession just once in the semi final first leg against Pahang; Syazwan has been converted from a defender to holding midfielder and has nullified both Badhri Radzi and Faizol Hussein in back-to-back games and was my man-of-the match until cramp forced him off 10 minutes from time against Pahang; Rizal Ghazali played his first ever match as a full back against Kelantan, and kept R Gopinathan largely quiet in his second game in the position; Syafiq scored in both legs against Kelantan, and set up the late third goal for Khyril Muhymeen – all as an impact substitute.
But the star of the first leg victory over Pahang was the diminutive Farhan. He fairly roasted the experienced Saifulnizam in the first leg against the Elephants, and scored with a soaring header in the second half – despite being the smallest an lightest player on the pitch. His team-mates call him "Messi" such is his skill which was honed on the futsal pitches of Alor Setar before being thrown into the cauldron like atmosphere of a Malaysia Cup semi final.
Sir Alex Ferguson always believed that you should trust in young talent and that they will always surprise you. Certainly Tan Cheng Hoe has trusted the young charges at his disposal by putting them into the big matches, and keeping the pressure off them, whilst coach Gillan has been key behind the scenes in developing these players so that, when given the stage, they were able to thrive.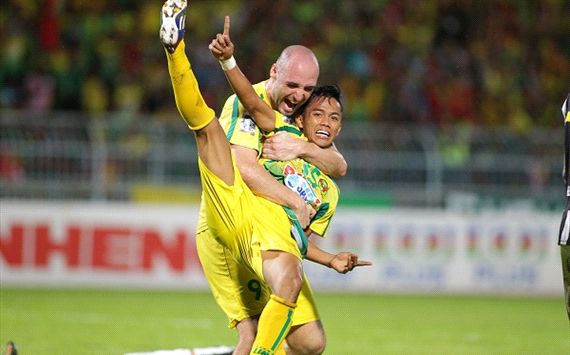 Of course, it's not just about the youngsters. Londoner Billy Mehmet leads the line superbly and is a real source of encouragement and inspiration to the rest of the team. Korean Woong Nam-Kung can and does produce moments of inspiration such as his 30-yard pile driver to open the scoring in Alor Setar. Australian, Adam Griffiths, is a steadying influence to complement the whole hearted Khairul Helmi Johari at centre back, Shafizan Hashim earned the admiration of Kelantan coach George Boateng for his performances in the quarter final victory over the Red Warriors, whilst Baddrol Bakhtiar and Khyril Muhymeen are locals who were part of the last great crop of youngsters produced by Kedah. That team won the treble twice.
No one would predict that this group of Kedah kids will go on to win the treble. Few are reckoning that they will even survive an expected onslaught from Pahang in Friday's second leg, but then again, nobody really expected them to be leading 3-1 from the first leg, and even fewer predicted they'd get this far at all.
Kids will constantly surprise you. Kedah's kids have certainly done that.
source:
http://www.goal.com/en-my/news/3986/editorial/2014/10/21/5315871/dez-corkhill-kedahs-kids-growing-up-on-the-big-stage?CMPID=FBMAL_141021_DEZKEDAH