Goal Malaysia's Team of the Year 2013
The year 2013 marked an action-packed year for the Malaysian football scene with LionsXII securing their maiden Malaysia Super League title, Sarawak winning the Malaysia Premier League title unbeaten, Kelantan successfully defending the FA Cup, and Dollah Salleh's Pahang overcoming the odds to win the Malaysia Cup.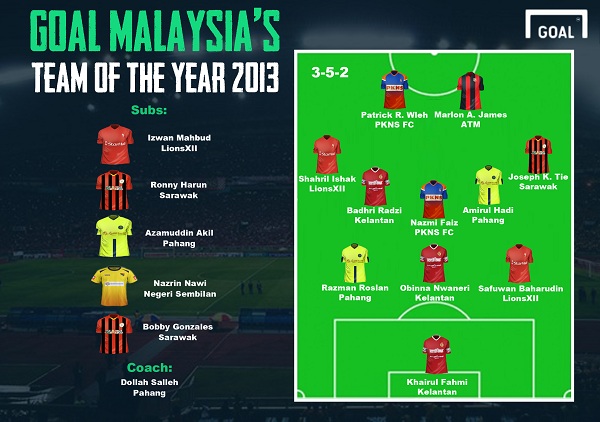 In Goal Malaysia's 3-5-2 formation, Kelantan custodian Khairul Fahmi Che Mat is the man in between the posts. He continued to show why he is one of the best in the country by bouncing back from a disappointing MSL campaign to lead his team to FA Cup glory and the Malaysia Cup final.

LionsXII centreback Safuwan Baharuddin started in 18 out of the 22 matches which Lions XII played en route to winning the MSL title; only one of those matches is a defeat. He was hard to beat in the air and on the ground. Joining Safuwan in central defence is the physically unmatched Obinna Nwaneri, who ensures Kelantan doesn't get caught out aerially. He was colossal in Kelantan's FA Cup run and was missed considerably in the final of the Malaysia Cup. Rounding off the solid back three is Razman Roslan, who struck up a good partnership with Damion Stewart and has advanced in leaps and bounds since his Selangor days. Less prone to mistakes these days, Razman also reads the game very well and puts his pace to good use.

Leading our formidable midfield is Badhri Radzi, who maintained his role as skipper and the engine of the East Coast outfit in all four fronts they competed in; he also scored several spectacular goals from corner kicks. Now with an incoming new head coach for the national team, perhaps Piya will finally get his time to shine at the international level. Starting alongside Radzi would be Amirul Hadi Zainal. He excelled at central midfield, providing tight cover at the back. His performance helped the Elephants win their first Malaysia Cup in 21 years.

19-year old Nazmi Faiz made up his lack of playing experience with sheer technique, after joining PKNS FC midway through the season from a doomed stint at Portugal's Beira Mar. He quickly put the embarrassing episode behind him, silencing his critics by showcasing his wealth of talent and helping his team to the quarter final stage of Malaysia Cup. The performance also helped him regain Ong Kim Swee's confidence, and he was back in the Malaysia U23 squad for the SEA Games just recently.

On the right wing we have LionsXII skipper Shahril Ishak who led by example, providing his team with pinpoint passes and assists that led to goals and contributing to their first ever MSL championship. Sarawak's Kalang Tie had always played well for Terengganu during his three-year stint with them, but when he decided to return home to captain his home state at the start of this season, he shone even brighter in leading the Crocs to an unbeaten Premier League title and to the semifinal stage of the Malaysia Cup.

Up front, 36-year-old ATM goalscoring machine Marlon James leads the line with an impressive tally of 25 goals scored this season. The veteran striker continues to improve with age and has adapted to the demands of the MSL by relying less on his pace and more on his game intelligence. Partnering with Marlon is PKNS FC's Ronaldinho Wleh, who time and again showed his goalscoring prowess and struck up a wonderful partnership with wonderkind Nazmi Faiz to produce 21 goals this season.

Pahang head coach Dollah Salleh gets our nod as the coach of this maginificent team for the wonderful tactical acumen that he displayed in guiding Pahang to the FA Cup semifinal and also ending the Elephants' 11 year wait for the Malaysia Cup victory.

Our benched is comprised of Izwan Mahbud, Ronny Harun, Azamuddin Akil, Nazrin Nawi, and Bobby Gonzales, who all did well for their respective teams.
source:
http://www.goal.com/en-my/news/3986/editorial/2014/01/02/4510583/goal-malaysias-team-of-the-year-2013